1/25
Order Manager Toolkit
for Magento 1
Tired of time-consuming operations with orders? Cheer up, Order Manager Toolkit extension provides you with the convenient tools for quick and efficient order processing. See all the necessary order info with extended order grid, perform order actions in bulk and add order related files to the orders.
Add any order attributes to the order grid
Invoice and ship orders right from the order grid
Set up the priority of orders with color flags
No more loss of important order data
Greatly optimize order management process
Save your time and efforts
Have you ever estimated how much time Magento order editing, payments capturing or applying actions take? We checked it out – and were surprised by the results. Save your store manager from these routine and time-consuming tasks by replacing them with automatic actions.
Make your order management more systematic
Missed delivery dates? Loss of important order information and chaos in order processing? And this is not a complete list of problems caused by inaccurate order management. Magento order management toolkit offers you a dozen of crucial features to avoid common order procedure errors.
Make management process more efficient with powerful order grid
Process orders in bulk right on the order grid
Editing each order to send invoice makes you frustrated? The solution is at hand - order editor Magento tool. With the extension, you can send invoices, create shipments with tracking numbers and capture payments right from the grid.
Fast and convenient mass order actions:
Apply Invoice, Capture > Ship or Invoice > Capture > Ship from the order grid. Just invoice a number of orders or invoice, ship and capture in one go.
Extra actions with less efforts:
Change order status, capture payment and add tracking numbers on the grid
Display shipping carrier if you need
Choose which actions to be available on the grid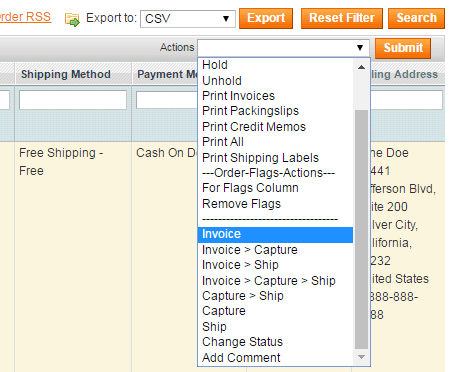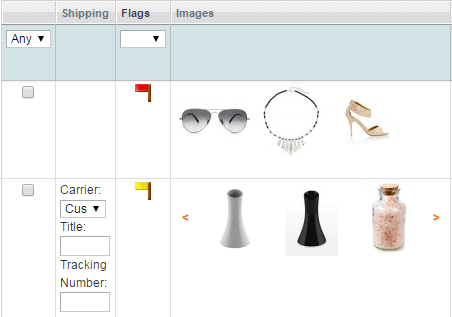 Organize and prioritize the orders
It's easy to mark the orders with flags of different colors to easily recognize the priority with the quick glance at the order grid. You can also sort orders by flag priority to see the most urgent ones at the top of the list.
Search and sort orders by attributes, priority, etc.
Now the possibilities for sorting orders by certain characteristics have greatly increased. Search and sort products by any attributes, order priority, attached info, etc.
See all the order-related files on the order grid
Usually there are a lot of documents and files associated with the order. Now you can attach all of them to the order and then see them on the order view. Nothing will be lost.
Feel free to adjust order grid for your specific needs
Show the product quantity on the grid
Choose the number of products to be displayed at the grid
Disable thumbnails on the grid if needed
Exclude the orders with cancelled, closed, complete statuses from the grid
Display shipping and billing address parts such as as country, state, zip, city, in separate columns
Easily adjust columns order and width
Remove default columns according to your needs
Display extended order and product info on the grid
Due to the Magento order editor, you can add any additional columns to the grid, both order related information such as shipping code, payment method, coupon code as well as detailed information about the products included into the order - name, price, sku or any other product attribute. There is no need to open each order view page to find out which products are included into the order. Moreover, thumbnails give you the full picture for visual presentation.
Display fields for orders with certain order statuses
Let's say you have additional field ID and select On Hold status for front end and Complete and Pending statuses for back end. The ID field will be displayed on front end only for On Hold orders, while in admin panel it will be displayed for Pending and Complete orders.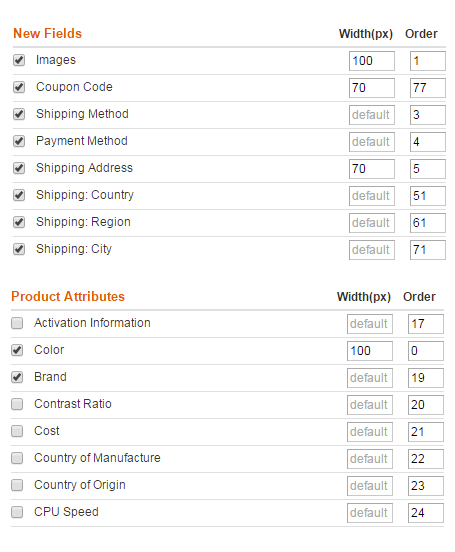 Files and notes
Upload any necessary files to orders to prevent loss of important information
With the Magento order edit module, admin users can add files (images, payment documents or other paperwork) to the order. The files are visible on order page in admin panel. Admins and customers can also upload and see the files.
The types of information you can add to order and then display it on the grid
Text field / Text Area
Single / Multiple file upload
Dropdown
Date
Organized order management with order flags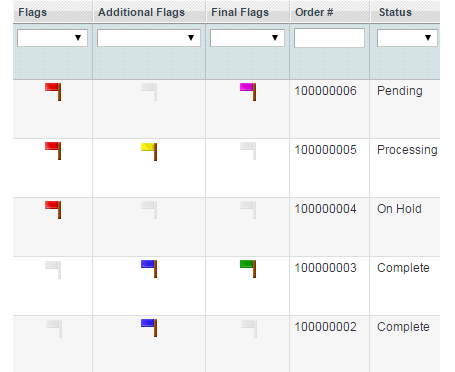 Use flag orders and add comments to the flags
Assign flags to orders for better priority recognition. Add a comment for each order, e.g. a note for managers like Call the client for details on shipping date, Ship today, etc. Create your own flags in addition to default ones.
Flag columns
The extension provides the possibility to have multiple columns with flags and apply several flags to one order. Let's say some order is urgent and a certain shipping method was used - you can apply two flags to such order.
Automatically assign flags based on order status, shipping and payment method
How it works? You can set a blue flag with 'high' priority to be assigned automatically to orders, which get 'Suspected Fraud' status as well as to orders with certain shipping or payment method.
Equip your store with great functionality
Other Features
100% Open Source — Easy To Customize
Follows Magento Code Architecture
Separated HTML/CSS/JS
Simple installation via Composer
* The name "Magento" and the logo are the trademarks of Magento, Inc.
см ниже
Очень крутой тул для магазина, заказы как на ладони, управлять ими одно удовольствие. Только хотелось бы, чтобы кит этот стоил немного дешевле :)
Absolute Power
The Most beautiful piece of work for Magento Admin Panel i ever saw,
This extension is absolute must have for any Magento admin, especially for a busy store like us.
It will give you full control on your orders and most advanced Report you ever need.

My Favorite part is the Configurable Details product, which almost a year i was looking for a solution to have a Configurable product by details in my report.
Which everyone even Magento partners mentioned they should change Magento Core, and many customizations should be done to get this details.

I purchased the EE version and installation as per my developer team was so easy and smooth,

Amasty Team is Rock.

Keep It Up Amasty. You Guys need a big Hug.
Awesome support
A bit 'raw' extension, not all described features run the way I expected. On the other hand, their support is very helpful and after some magic manipulations everything started working great.

Very reliable developer that I can recommend to everyone.
works great out of the box!
I don't understand why such functionality isn't standardized in Magento because it is a real must have for every shop with wholesale orders.
Anyway the extension works great out of the box and a real time saver. Very often our customers call us after they did the order and ask to change something or add some items etc. This is hard to do in magento due to different payment methods and other complex reasons without asking the customer to re-order. Thanks to this extension all the changes are done easily.
The only thing I'd like to add if possible – is the possibility to add discounts to the orders, which is a really useful feature. In general, nice work guys - keep it up!

Amazing pack of tools
Was in two minds whether to buy just mass actions and product grid tools, but greedy part came out on top - and I voted for the pack of tools at a very tempting price. Frankly speaking I don't use order flags at all, but anyway the addon is really juicy and deserves one's attention - high quality, attentive support, clear documentation... nothing to pick at!
Very good app!
The app works even better than we expected! Easy to perceive manuals plus attentive support managers and finally we got all settings perfectly fine tuned. Good vendor, great app!
Time saver for huge stores
Actually, there are tons of similar tools at the market, but I've stopped on this one cause it contains functionality of 3 products in one. The price for such a number of options seemed hot.

The app runs well and has no conflicts with other tools we use on our site. Numerous settings appeared to be very easy, so that we managed to setup all necessary options within a few hours.
One tool for lots of actions
A must-have add-on right from the start! Our store is relatively small for now but the bigger it gets, the harder it was to work with product grid efficiently. Some important information wasn't shown on the grid, got forgotten and finally lost.
This is not how a decent shop works, so we started to look for some solution for a reasonable price. I found Amasty just on Google, read some reviews and decided to try it. We are using the add-on for a couple of weeks now, and it still feels like magic. I totally love the flags, developed a whole system of those! Automatic email templates keep the buyers posted about the status of their order – nice thing to maintain warm relations with customers.
Some issues sprung up during the installation of the module. Guys from Amasty support were very helpful and patient. User guide covers everything besides installation, once running extension is easy to use.
A good pack of must-haves
It's a pity magento still lacks essential options to let us easily manage ord ers and products. We are operating a relatively small store with about 2k SKUs, but even in our case we do felt the need to optimize our order management.
All-in-one extension was exactly what we needed. Although we don't use every option of the module (due to our specifics), order processing has visibly speed up. After some tweaking and customization we've got a really great tool which I highly recommend to all store admins.
Nice extensions!
Allways verry helpful by email also!
One purchase - tons of features
I do like when one easy tool performs numerous actions, thus one installation solves hundreds of problems at a time. And this module is just about that.
Really efficient
The list of features is impressive. The order grid is much more functional now. Especially I like the attachments to orders - lots of times it happened that somrthing was lost. With this extension all data is in one place and in front of my eyes. Nice.
Write Your Own Review
You can always download the recent version free of charge from your account
Installing an upgrade is easy — check now
My Downloads
Version 1.10.7
Last Update: Aug 12, 2019
Fix the issue with escaping for product names on grid was resolved
Fix we fixed the issue with displaying the product name and SKU on the extended order grid
Fix we fixed the issue with filtering the subtotal field
Fix the issue with the "Shipment Date" option was resolved
Fix security issues were resolved
Version 1.5.1
Last Update: May 22, 2019
Fix the issue with the "Shipment Date" option was resolved
Improvement the process of printing documents was improved. Now it is possible to print all docs (such as invoiced and shipments)
Version 2.2.0
Last Update: Apr 09, 2019
Improvement the process of printing documents was improved. Now it is possible to print all docs (such as invoiced and shipments)
Version 2.1.5
Last Update: Jan 31, 2019
Fix the error while trying to access "Sales" link was resolved
Version 1.4.3
Last Update: Jan 31, 2019
Fix the error while trying to access "Sales" link was resolved
Fix security issues were resolved
Fix the issue with the newly added columns display on the grid was resolved
Fix the issue with columns width on order grid was resolved
Version 1.3.9
Last Update: May 10, 2018
Compatibility with Magento Enterprise (Magento Commerce) Order Archive module was added
Column "Total Paid" is added to grid
Fixed an issue with more than one order tax on grid
New Feature: image zoom and carousel
New Feature: Order Tax, Invoice Date, Invoice Id, Shipment Date and Shipment Id columns can be added to grid
Fix multiupload files issue
Minor integration improvements
Version 1.1.10
Last Update: Apr 17, 2017
Minor code syntax improvement
Moving all menu items under "Sales -- Order Manager Toolkit" section
Admin routing patch (SUPEE-6788) compatibility
Code optimization for better compatibility with the `Extended Order Grid` extension
Fix for regional date format at the order grid
Default values are now applied correctly for PayPal orders
Version 1.2.9
Last Update: Apr 03, 2017
Notification message is now displayed with the link to configuration page, in case when no new fields added with the extension
Possibility to upload files using drag and drop on the order view page (in addition to the order grid page)
Added new column to display shipping tracking number
Modified algorithm for file uploads
Fixed sorting by date
Fix for calendar display in Magento EE
Fixes for "Archive" feature of Magento EE
New action - Add Order Comment
Minor code improvements
Better compatibility with Order Status extension
Improvement for filter logic when filtering one single day
Version 1.0.9
Last Update: Jul 31, 2015
Minor code improvements
Separate permission rule to allow assigning flags on the order grid
Flag auto assign now works for specific shipping methods instead of carriers
New mass action "Edit order notes and files"
Mageto 1.9.2.0 security patch compatibility
Magento 1.9.2.0 security fix
Compatibility improvements
Compatibility improvements
Version 3.1.0
Last Update: Oct 29, 2013
Bugfix for saving default columns