Products bring you money when they are sold. But if there are lots of products in your store, the process of product management may become really slow. As the result, you are forced to employ more managers and spend your time on dealing with the mess and complete frustration. Read on to find how to avoid such unpleasant situations.
Product Manager Toolkit is a magic wand for a manager to get great power over the products.
What you get with the extension
| | | | |
| --- | --- | --- | --- |
| | | | |
| No more chaos in your store | Convenient product-management | Highly adjustable tools for specific needs | No more inefficient time spent |
| The products are in their right places and you clearly see all of them in a single view. This way, you can quickly find the 'lost sheep' | All the tools are easy to use even for a rookie merchant | The extension is highly customizable. Every feature can be easily inactivated if you don't need it | With the help of this module, you are able to make changes in products and duplicate categories really fast. Hire 1 manager instead of 5 and enjoy your free time |
How it works?
Product Manager Toolkit Extension provides you with 4 easy steps to make product management process more structured and your managers more happy at the same time.
Step 1.
See all the products on the grid and edit them. Fast, in bulk or by one.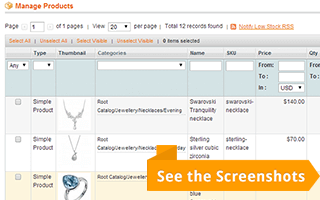 Enhance your product grid and see the possibilities of it. Make your product grid more informative.
You see all the products with the attributes on the grid. All the products are displayed in one place in a single view
Extend the grid with any attributes you need or remove several standard columns
Manage products right on the grid in Magento admin panel
Step 2.
Make mass changes with products in 2-4 clicks.
Save a huge amount of time
Sort the products by any criteria, and make bulk change
Change price, categories, relate, copy custom options
2-4 clicks for a change of any number of products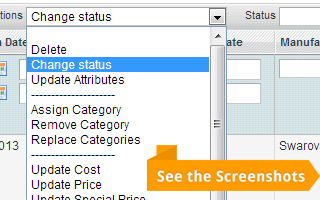 Step 3.
Upload images for products with Ajax in a fast manner.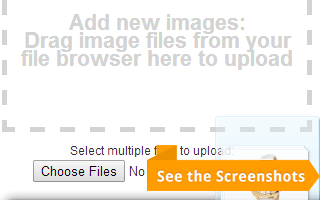 No need for Flash or other plugins as the module uses native JavaScript
HTML5 and AJAX-based drag-and-drop functionality
4 step.
Attach any files to product pages.
Give additional information about the product by attaching files on the product page.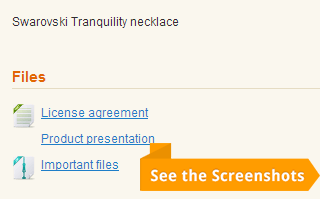 Now, when you know all about the bonuses of the module, it's time to use the tools and become a happy manager.
Rich functionality in one extension
With the Product Manager Toolkit installation you get the functionality of 4 product management modules:
Other Features
100% Open Source — Easy To Customize
Follows Magento Code Architecture
Separated HTML/CSS/JS
W3C Validated Code
* The name "Magento" and the logo are the trademarks of Magento, Inc.
Product Manager Toolkit - mach BE Arbeit sehr bequem!
Wirklich sehr gute Extension, erleichtert BE Arbeit sehr gut. Dank Mass-Aktionen keine Zeitverschwendung mehr, Atribute einfach kopiert, also alles was man im Produkt ändern muss, kann man direkt in Katalogansicht machen.
Also diese Extension ist "must have"!

A "must have" for all store owners
This extension package is a "must have" for all store owners! It makes all product editing so much easier and includes lots of handy tools for mass editing products.
Also developer support is just amazing!

Good extension
This extension works as described and has a good set of features which makes product management better.
Thanks for the great extensio n, we will purchase more from your company.
Regards, Mike Piton
Don't be afraid of complexity
To be honest, I wasn't sure whether we should give this toolkit a try or just search for the needed modules separately. Complex tools often don't work the right way and conflict with other extensions. I just can't stand all these magento problem-solving.
However, one toolkit is much less expensive than a bunch of modules so we gave it a try. It took about a week to understand how it all works. Every-day work became more efficient now, that's noticeable.
I don't regret taking a risk and purchasing the plugin. Thanks, guys)
Very feature-rich extension for order management
Usefulness
5 / 5
Functions as Described
5 / 5
Developer Support
5 / 5
It was a really wise decision to mix order-related tools in one extension. But at first I was afraid of installing such a complex tool, as such extensions usually cause troubles during installation and configuration. But due to highly competent customer care guys, the installation appeared to be absolutely painless.
Now order management routine tasks require much less time, and the level of managers' productivity has visibly grown.
By the way, it's perfectly working with 1.9.0 Magento version.
CopW
Magento Connect
Multifunctional solution for big stores
As soon as I hoped to get the extension running smoothly right after the installation, I was a bit disappointed to find out that it conflicts with 2 of our previously installed plugins. Urgent ticket – quick reply and everything was fixed.
The most important feature for our store was the ability to attach manual instructions to the product pages, but the whole bunch of other handy tools was a great bonus. The plugin does its work pretty good, but it would be awesome to see some updates as there haven't been any since we purchased the module.
werdunier,
Magento
Indispensable for Serious Magento Shops
This extension makes product management in Magento a whole lot easier and quicker. Saves a lot of time!
Write Your Own Review
Version 1.7.1
-
February 15, 2017
– Fix for setting visibility for each particular attachment
Version 1.7.0
-
January 25, 2017
– Minor stability improvement: skip empty attribute codes
Version 1.6.9
-
January 17, 2017
– Possibility to globally define the default value for file visibility setting (public or private) for all newly uploaded attachments
Version 1.6.7
-
December 16, 2016
– Code refactoring for files download algorithm to improve compatibility
Version 1.6.5
-
December 13, 2016
– Minor code refactoring
Version 1.6.4
-
November 29, 2016
– Added new action to mass change product visibility
Version 1.6.2
-
November 02, 2016
– Fix pagination for Anchor Category Filter
Version 1.6.1
-
October 18, 2016
– Added templates switcher for single store mode
– Date format now uses locale settings
– Option to show products from children categories for category filter
Version 1.6.0
-
September 15, 2016
– Added compatibility with the `Amasty: Custom Options for Customer Groups` extension for the `Copy Custom Options` action
Version 1.5.9
-
September 07, 2016
– Option to include children categories products with "Is Anchor" = "Yes"
Version 1.5.8
-
August 16, 2016
– Improvement for Quantity Sold column indexing
Version 1.5.7
-
August 06, 2016
– qty sold works better with import orders extensions like m2e
Version 1.5.6
-
July 12, 2016
– Added compatibility with 3-d party product grid extension
– Improved Copy Images action
– Modified alternative algorithm for the categories tree display
Version 1.5.5
-
July 08, 2016
– Fixed issue with new templates creation
Version 1.5.4
-
June 23, 2016
– Improvement for filtering products that have no category assigned
Version 1.5.3
-
May 20, 2016
– Fix for reports page access
Version 1.5.2
-
March 01, 2016
– Several minor improvements
Version 1.5.0
-
January 15, 2016
– Fix for editing multiple select attributes
– Minor visual improvements for cell editing
Version 1.4.8
-
December 09, 2015
– Use of database prefix for index tables (quantity sold index)
Version 1.4.7
-
December 06, 2015
– Bugfix for attachments visibility when multiple instances of the same item purchased
– Bugfix for API field name ("label" instead of incorrect "title" should be used)
Version 1.4.6
-
December 06, 2015
– Improvement for the quantity sold calculation mechanism
Version 1.4.5
-
December 02, 2015
– Now it's possible to switch grid columns template directly from the grid page
– General performance and compatibility improvements
Version 1.4.3
-
November 25, 2015
– Minor fixes
Version 1.4.1
-
November 06, 2015
– Fix for backend URLs for products export
– Improvements for working with date type attributes
– Improvements for scrolling on the product grid
Version 1.3.6
-
October 27, 2015
– Admin routing patch (SUPEE-6788) compatibility
Version 1.3.5
-
October 27, 2015
– Admin routing patch (SUPEE-6788) compatibility
Version 1.2.8
-
July 16, 2015
– Fixed Magento ACL patch issue
Version 1.2.7
-
July 15, 2015
– Added CSS styles for popup windows
Version 1.2.6
-
July 14, 2015
– Added compatibility with Magento 1.9.2.0
– Added permissions for mass actions
– Improved attaches displaying at the product grid.
Version 1.2.4
-
July 09, 2015
– "It is possible to save columns order per template, not per user.
Version 1.2.2
-
June 18, 2015
– Fix for duplicate row when attachment available for all customer groups
Version 1.1.7
-
June 03, 2015
– Fixed warning on Remove Category and Replace Category actions
Version 1.1.6
-
June 02, 2015
– Replace Text action fix
Version 1.1.4
-
May 29, 2015
– Possibility to make attachment visible per customer group
– Possibility to make attachments visible for customers who purchased a product
Version 1.1.2
-
May 21, 2015
– "Grid Attribute Columns" window user interface major refactoring/improvement: now everything in one place to manage grid columns
Version 1.1.1
-
May 20, 2015
– Possibility to mass upload and import files via CSV/FTP
Version 1.0.9
-
May 14, 2015
– Workflow improvements
Version 1.0.7
-
April 14, 2015
– Possibility to create column templates for fast switch between column sets
Version 1.0.5
-
April 07, 2015
– File size is now displayed on frontend for each downloadable file
– Uploaded files with links are now displayed on the product grid in the backend
Version 1.0.4
-
April 01, 2015
– Minor fixes
Version 1.0.3
-
March 31, 2015
– Added JS validation based on attribute class
Version 1.0.2
-
March 26, 2015
– New action - replace text in attributes
Version 1.0.1
-
February 20, 2014
– Download report refactored
– Correct handling of upload errors
– General code optimisation
– Bugfix for deleting file icons