Recommend products automatically
Suggest only relevant items
Recommend similar products
Adjust the blocks' design
Set up display conditions
Accurate recommendations for your store
Most likely, you've already added some products to recommend. Use stats to adjust recommendations accuracy. Quickly replace existing items with the ones generated by algorithms. Or expand the list manually with specific items such as proven best-sellers or new products.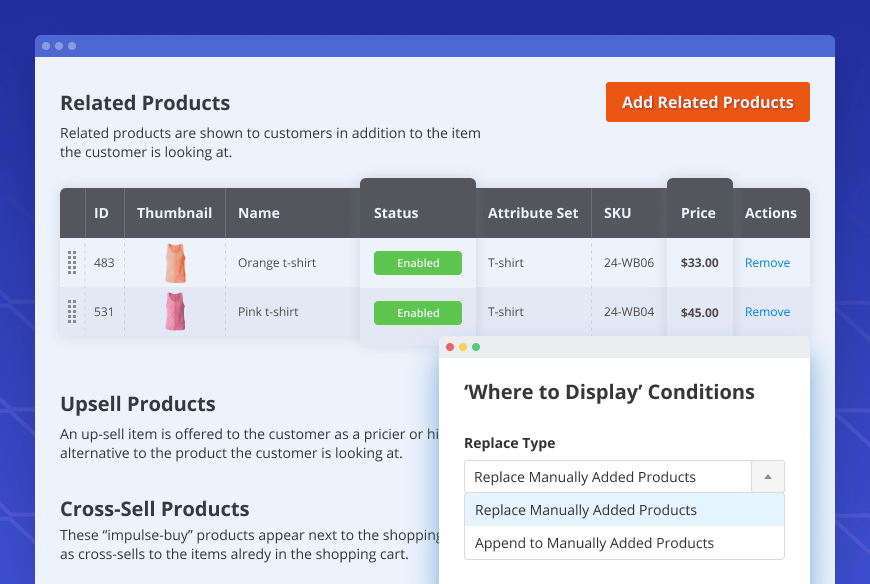 Select a source type to suggest only relevant items
Display related products according to gathered data. Recommend products that are most likely to be purchased based on the analytics of the buyers' behaviour. You can select a few sources or apply only product conditions with Magento Bought Together extension.
Recommend similar products with "Same As" condition
Utilize smart conditions to show highly similar products. Enable the "Same As" condition to select certain product attributes. Recommend only new products or only products from the same category. The module will automatically filter out irrelevant items to fit the conditions.
Fine-tune the upsell blocks display
Customize the way blocks will look on a web page. Modify block title to add a catchy slogan and make the section more noticeable for customers. You can also define sorting rules and select a block layout. Plus, Magento 2 Bought Together module helps you motivate visitors to make a purchase right away with an "Add to Cart" button.
Promote the "Frequently Bought Products" on any page
After you designed the block layout, it's time to decide where it will be located. Choose the desired block position or customize it by embedding a piece of code. Select products, for which the "Customers Also Bought" Magento block will be shown by adding necessary conditions. Press "Preview Products" button to see what items fall under conditions.