Customers Also Bought
for Magento 2
Increase an average cart value by automatically suggesting relevant products. Create flexible recommendations with the Magento 2 Frequently Bought Together extension to promote products according to your business needs and boost sales.
Promote relevant products with smart rules and flexible conditions
Set up once and automatically display "Viewed together" and "Bought together" items
Benefit from data-driven product recommendations
Hide "Out of stock" products to maximize purchases
Create multiple rules and adjust the display order
Show "Also Bought" blocks at any place of any page
SELL MORE PRODUCTS IN ONE ORDER
WITH AUTOMATED RECOMMENDATIONS

Challenge
Do you use all the opportunities for maximizing your store profits? Big brands like Amazon successfully apply "Recommended Products" block integration to their pages. Magento 2 default products' recommendations aren't really flexible. That's why creating an exciting offer may be difficult, it doesn't always catch users' attention and brings sales.
Solution
Drive users to purchase up to 29% more with Magento 2 Who Bought This Also Bought module! Automatically recommend relevant products to increase average cart value with minimum efforts. Easily analyze the rules performance and increase sales by showing users products they're most likely to purchase based on "Viewed" or "Bought" together stats.
How this extension can help you?
Maximize sales with smart rules recommending customers items they'd buy with a higher probability
Easily track and analyze rules performance to adjust settings and show only effective suggestions
Set up once and sell automatically forever with personalized "Customers Also Bought" block
What is Magento 2 Frequently Bought Together?
The extension allows you to create smart product recommendations for your site visitors. The key idea is to recommend only the most relevant products to the shoppers so this can increase the average check at your store. Analyze the interests of your regular customers and newcomers to make profitable upsells and crossels.
Fast and easy start with advanced product recommendations
Expand the possibilities of your Magento 2 Also Bought block to grow store revenue. Define your store and quickly create several 'product conditions' to present related items in the corresponding block.
Recommend products automatically
Suggest only relevant items
Recommend similar products
Adjust the blocks' design
Set up display conditions
Flexible and accurate recommendations for your store
Most likely, you've already added some products to recommend. With this module, use stats to adjust recommendations accuracy. Quickly replace existing items with the ones generated by rules. Or, you can append them to manually added products in case you want to promote specific items such as proven best-sellers or new products.
Select a source type to suggest only relevant items
Display related products according to gathered data to determine which products are often viewed or bought together. Recommend products that are most likely to be purchased, as it was seen from the behaviour of other buyers. You can select a few sources or apply only product conditions with Magento Bought Together extension.
Recommend similar products with "Same As" condition
Utilize smart conditions to show highly similar products. Enable the "Same As" condition to select certain product attributes. Recommend only new products or only products from the same category. The module will automatically filter all items to show the ones that fit this condition.
Fine-tune the upsell blocks display
Effortlessly customize the way blocks will look on a web-page. Modify block title to add a catchy slogan and make the section more noticeable for customers. You can also define sorting rules and select a block layout. Plus, Magento 2 Bought Together module helps you motivate visitors to make a purchase right away with an "Add to Cart" button.
Promote the "Frequently Bought Products" on any page
After you designed the block layout, it's time to decide where it will be located. Choose the desired block position or customize it by embedding a piece of code. Select products, for which the "Customers Also Bought" Magento block will be shown by adding necessary conditions. Press "Preview Products" button to see what items fall under conditions.
Display the cross-sell / upsell items block anywhere you need
Product page
Category page
Shopping cart
CMS pages
Increase the average order value by offering products in a bundle
Quickly create and promote products together in bundle packs with fixed or percentage discounts.
Condition-based discounts
Motivate shoppers to get a bundle
Run time-limited promos
Upsell on the shopping cart
Show all bundles in one place
Provide different discounts depending on how many items are picked
Motivate shoppers to get the whole bundle using the differentiated discoutns.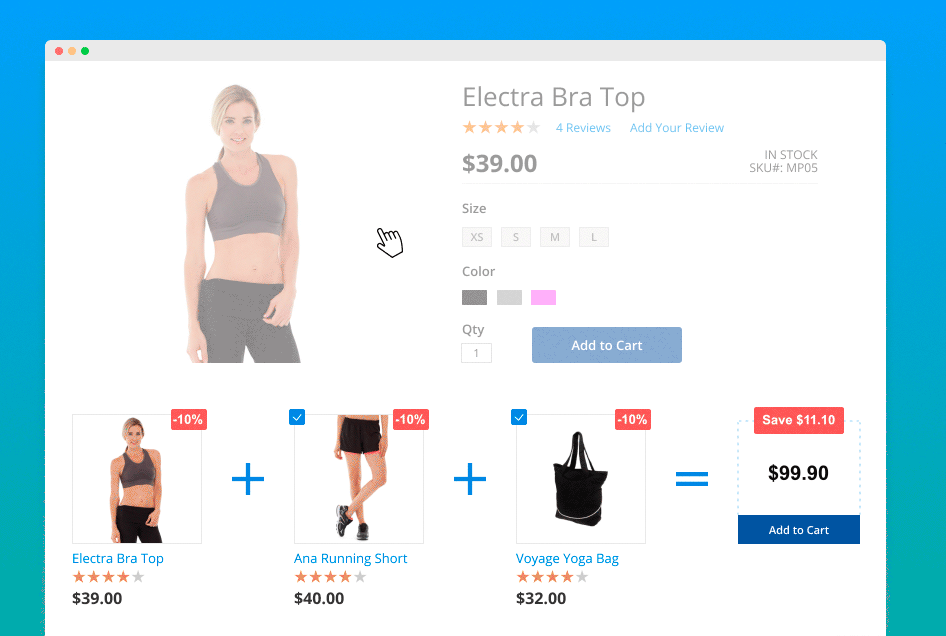 Motivate shoppers to get all products from the bundle
Provide no discount at all if one product is removed from the bundle. This will cause the necessity to get all products from bundle if a shopper truly wants a discount.
Run quick promos by setting time limits for your bundles
Specify a bundle pack's lifetime accurate to a minute and provide an urging title to stimulate faster shopping.
Show bundle special offers on the shopping cart
This can be efficient if shoppers miss or ignore your promotions while browsing the other pages of your website.
Enable a separate page to show all your bundle offers
Increase the chance that your shoppers will pick up something in a bundle by creating a rich bundle assortment in one place.
Determine the data gathering period
Specify a time period during which the module will gather statistic to provide accurate recommendations for "Bought Together" and "Also Viewed" conditions. The more purchase data the module records, the more effective the offerings from Magento Also Bought are.p>
Automate recommendations to save time
Automatiс suggestions are based on the algorithm that defines which products are frequently bought together (or viewed together) with the one under consideration. The inbuilt logic allows replacing manual suggestions with accurate insights driven by the analysis of customer behaviour.
Hide "Out of Stock" products from recommendations

Remove out-of-stock positions from suggestions' block. Easily prevent potential loss of sales by showing visitors items that can be immediately added to the shopping cart and purchased. You can also implement a Magento Out of Stock extension to allow customers to subscribe for "Back in stock" notifications not to lose these orders.
Recommend items with no interaction history
Suppose you launch a new product. This means that there is no history to analyze to provide suggestions. Still, you know your products range well enough to recommend an item or service that can become a "Frequently Bought or Viewed Together" product very soon. Add some recommendations manually and replace them with automatic suggestions.
Fine-tune your sales strategy based on rules' performance
Check the performance and actual status of each promo block.
Rules performance
Bundle analytics
Manage all existing rules on a grid
Check the progress and measure the success of each product block performance to timely modify poorly performing ones and get the most out of your shop. Easily create a new rule or change rule priority from the admin panel just in a few clicks!
Enjoy the built-in bundle analytics
Enhance the performance of your bundle packs using the auto recommendations system.
Easily attract more visitors and inscrease sales
Boost conversion rates with
Landing Pages for Magento 2
by creating targeted landing pages. This will help you to create SEO-optimized pages to make it easier for customers to discover your shop. Improve SEO with
Magento 2 FAQ and Product Questions
extension by providing additional information on products to grow relevant traffic and convert it to sales.
According to the statistics, the 'Frequently Bought Together' extension for Magento 2 can cover each business need in synergy with the following solutions: magento 2 wholesale extension and magento 2 delete orders.
Other Features
100% Open Source — Easy To Customize
Follows Magento Code Architecture
Separated HTML/CSS/JS
Simple installation via Composer
* The name "Magento" and the logo are the trademarks of Magento, Inc.
Must have
The ext is superb! Works out of the box. I believe it's a must have solution.
Good ext
Good module, works as described. Faced no problems with installation. But didn't manage to finetune it without the user guide and support manager help.
High-level product an' great support
Wanna say thanks for the module an' high-level support. It's a bit difficult for me to understand how to install an' configure it properly. The support was my saviour. Patiently, they explained everything I asked! Great module an' service.
Useful module
I was using the extension for some months and was very pleased until I decided to hold an experiment. My idea was simple: to advice to customers only products from the new collection. And, you know, I couldn't do this with the ext. The support told me they'd add the feature. But now I can do nothing wth it, just waiting for the update.
I don't say that the mod is bad. It's working and useful. Give it A- because of my high expectations.
Fully satisfied
I was surfing the web for new ways to increase sales and bought the ext. I was surprised cause I installed and configured it (by myself, btw). For now, I see real results: shoppers indeed buy more when you turn their attention to other products. And it's not a joke. Cool ext, Amasty!
Are you looking to add specific functionality for this extension or want to acquire a reliable development partner altogether? With custom development services by Amasty, you will receive high quality and cost-effective solutions developed by Magento professionals according to industry's best practices.
2.4.2-p1, 2.3.7, 2.4.2, 2.4.1-p1, 2.3.6-p1
You can always download the recent version free of charge from your account
Installing an upgrade is easy — check now
My Downloads
Version 2.11.2
Last Update: Jul 09, 2021
Compatibility we improved compatibility of bundle pack feature and php 7.2 and lower
Improvement we enhanced the logic of discount applying in case items were added from the special Bundle Pack block to avoid a random match of a similar bundle pack while modifying items in cart - now only the discount of directly added Bundle Pack is calculated
Improvement the Bundle Pack Sales grid now contains a Bundle Price column with the sum before cart discounts applying and tax calculation
Improvement now the bundle packs are available for multishipping
Improvement we implemented the optimization of 'bought together' request to improve its performance
Compatibility we added compatibility with Alt Tags part of SEO Toolkit solution
Fix we resolved the issue with sizes of listing product images in case related block contains the same products
New we introduced a new discount type for Bundle Packs: now you can set conditional percentage discounts depending on a quantity of Bundle Pack items that are added to the shopping cart
New we added the sales statistics for Bundle Packs
New now you can choose to apply the discount only if items were added from the special Bundle Pack block (in that case items added to cart separately, e.g. from their product pages, won't be associated with any bundle pack)
Version 2.10.1
Last Update: Feb 24, 2021
Fix we corrected the pre-defined extension data delivered upon initial installation
New now you can configure and see the sales statistics for Bundle Packs - we also added smart recommendations for products to use in each bundle pack based on the previous 'bought' and 'viewed' data analysis
New we added the information about ordered bundle packs to the Orders grid and to an order view page for better convenience and orders differentiation
New we introduced a new mode for Bundle Packs - now the discount may be applied only if all items are added to cart
New now you can set individual discounts per each item in a Bundle Pack
New we added an option to apply rules and bundle packs to all customer groups at once
Improvement now you can choose to always show a dialog popup for Bundle Pack's products with options (even if there are only non-required ones) to not let customers miss the opportunity of customizing the product
Improvement we added the 'is not' operator to the 'same as' conditions
Compatibility we added the compatibility with Magento 2.4.2
Compatibility now customers will see a confirmation popup after a Bundle Pack is added to cart if Amasty Ajax Shopping Cart extension is installed
Fix we corrected the Configurable Product image update upon selecting of corresponding swatches in the dialog popup
Version 2.9.13
Last Update: Dec 21, 2020
Compatibility we enhanced compatibility with Amasty Jet Theme
Fix we corrected the display of related products inserted into the native block on Magento Commerce
Improvement we updated, adjusted and optimized GraphQl queries
Fix we corrected the applying of 'same as' condition with Attribute Set
Fix we resolved the issue with Bought Together condition for composite products
Improvement now the summary block of Bundle Pack is visually distinguishable if there are several lines with bundle items
Improvement we reviewed and enhanced the display of Bundle Pack elements on mobile devices
Improvement we added an option to consider only non-anchor categories in 'same as' condition in order to narrow down the list of suitable products
Compatibility we enhanced the extension display if used in combination with Amasty Jet Theme
Compatibility now the extension is compatible with Amasty Jet Theme
Improvement we enhanced the speed of GraphQl queries
Fix we resolved the issue with missing store views in corresponding column of Rules grid
Fix we fixed an error on Shopping Cart page caused by usage of rules with non-existing attribute
Fix bundle items with customizable options are now added to cart as expected
Fix we resolved the issue which occurred upon application of several rules with 'same as' condition to the same page
Fix we resolved issue on checkout page with Magento 2.3.2 and less
Improvement now discount label on main product get hidden if all bundle products are unchecked (to avoid possible confusion)
Improvement we added new variable to use in Upsell Message for Bundle Packs which matches the total discount amount (if discount is applied to main product)
Improvement we reviewed and improved application of 'ALL' type condition in case of no attribute value assigned to the product
Compatibility compatibility with Magento MSI was improved
Compatibility we upgraded compatibility with read GraphQl
Compatibility compatibility with Amasty Mega Menu and Request a Quote was enhanced
New now the extension is covered by MFTF tests, which will help to improve its quality and stability
Version 2.8.7
Last Update: Mar 16, 2020
Improvement we rechecked and established correct dependency on jQuery UI library
Fix we corrected minor visual imperfections on bundle pack edit page in admin panel
Improvement we implemented major performance enhancement
Compatibility compatibility with read GraphQL was enhanced
Fix issue with creating related product rule was resolved
Improvement minor improvement was implemented
Fix we resolved issues with per customer group configuration implementation
Fix we fixed the incorrect display of configurable product price in mini-cart
Improvement we reviewed and enhanced the security level of the plugin
Fix issue with customer group restriction was resolved
New we added the option to show only the current category's products on a category page. If you need to draw attention to products from the category with particular characteristics - you are free to use this option to achieve the goal
Improvement we enhanced the performance of rules' application on large catalogs
Fix minor styling fixes were implemented
Version 2.7.0
Last Update: Oct 01, 2019
New we added the option that allows you to define the quantity for each Bundle Pack Product in a bundle pack
Improvement we added an ability to choose a custom position for bundle packs to make them organically fit the design of your product pages
Compatibility compatibility with Amasty Shop By Brand and Thank You Page plugins was improved
Fix issue with saving of bundle pack without customer group assignment was resolved
Fix issue with bundle pack discount amount calculation was fixed
Version 2.6.5
Last Update: Sep 09, 2019
Improvement minor improvements were implemented
Compatibility we enhanced the compatibility of the module with Porto theme
Fix issue with showing out of stock products was resolved
Fix issue with bundle pack prices was fixed
Fix issue with showing custom blocks was resolved
Improvement extension was covered by unit tests
Fix issue with Customer Group condition was resolved
Fix the compatibility with old Magento versions was improved
Improvement code was refactored according to Magento Standards
Improvement extension was covered by unit tests
Version 2.5.3
Last Update: May 02, 2019
Fix an issue with Same as Conditions was resolved
Compatibility now the module is read compatible with GraphQL. It allows exposing product data like SKU, name, link, image, price, etc. in order to build PWA/JS-based frontend
Improvement the performance enhancement was made
Improvement for the 'Bought Together' items the system takes into account only products purchased in one order
New the ability to manage all existing cron tasks on a Cron Tasks List grid in the backend was added. Run cron tasks and generate their schedule by clicking the 'Run Cron' button. Also, delete tasks in bulk, apply filtering and sorting options when it is needed
Compatibility the compatibility with the 3rd party extensions was enhanced
Version 2.4.0
Last Update: Mar 18, 2019
New ability to display dedicated Bundled Packs promo listing page was added
New ability to display Bundle Packs block in Shopping Cart was added
Improvement minor enhancements were made
Version 2.3.0
Last Update: Mar 04, 2019
New ability to display upsell hint messages about the bundle packs promo in the shopping cart was added
New ability to set time period for bundle pack promo was added
New ability to position related products block in the separate product tab or above the product description was added
Version 2.2.1
Last Update: Feb 19, 2019
Fix a minor issue with prices was resolved
New allows admin to create Bundle Packs rules and offer customers a discount on the group of products purchased as a bundle
Version 2.1.2
Last Update: Feb 13, 2019
Fix an issue with the view together and bought together sorting was resolved
Fix an issue with a view and click statistic was fixed
Compatibility the compatibility with Magento 2.2.7 and higher was added. The issue with orders placement was resolved
New ability to monitor rule performance statistics (Views, Clicks, CTR, Orders, and Revenue) was added
New a slider option is now available for related products block
New ability to preview product list in Magento backend based on the selected conditions was added
Fix an issue with 'If ALL of these conditions are FALSE' for the 'Same As' feature was resolved
Version 2.0.7
Last Update: Jan 24, 2019
Compatibility compatibility with Magento Cloud was improved
Fix an issue with 'same as' attribute condition for the products with unspecified attribute was resolved
Fix an issue with custom themes and rule for All Store Views was resolved
Fix an issue with install script relaunch was resolved
Improvement the rule configuration settings were enhanced
Fix an issue with 'Same as' condition for the category was resolved
Fix the issue with ACL resources was fixed
Fix the issue with upgrading module from old version was fixed
New the extension code has been completely renovated. It makes the module significantly more flexible and provides new functionality. Important! After this update, all the rules created previously will be disabled. It's recommended for admin to recheck the rules configuration before enabling them.
New ability to create rules for assigning up-sell, cross-sell and related products automatically were added
New now admin is able to select the place where the related products blocks will be displayed
New flexible conditions for defining related products allow admin to select products based on their attributes
New auto-generated products could be selected from the same attribute value, e.g. the same brand, the same color, price or size
New ability to set the priority for the rules. Rules with higher priority (1 is the highest) will be executed in case some products fall under several rules
Version 1.4.5
Last Update: Aug 29, 2018
Improvement the admin panel user interface was enhanced
Fix the problem with the memory limit after reindex was resolved
Fixed an issue with the indexer
Fixed an issue with indexing the rule that is not found
Fixed an issue with applying limitations for all product relations
New Added the 'Product Currently Viewed' data source. Now, you can display products without the sales/views history, from the same category, from the same brand, based on their price, or using all the mentioned conditions simultaneously.
Version 1.3.0
Last Update: Dec 11, 2017
New data source: Product Attributes. Now, you can show related products based on the rules of product attributes.
Fixed an issue with duplicate products
Fixed an issue with showing products in the UpSell block
Version 1.2.2
Last Update: Nov 17, 2017
Fixed an issue with the product display in the upsell block
Fixed cart cross-sells issue.
Enterprise Edition compatibility improved
Multiple various fixes
Version 1.1.2
Last Update: Mar 22, 2017