Login as Customer
for Magento 2
Assist your customers with the checkout process and reduce support time on credentials requests. Easily login as customer in one click to provide better shopping experience and get deeper insight on how the store performs from your shoppers' point of view.
Take a look at your store with the customers' eyes
Utilize the Magento 2 'Login as Customer' button to quickly enter any user account
Track and record each customer account login attempt
Distribute the ability to login as customer to sub-admin users
The ability to login as customer provides store administrators with a number of important capabilities. First, you can accompany your customers in the shopping process, easily help them during the checkout process. Second, it is possible to discover a Magento 2 store from a new brand perspective, acting like the existing shopper. Finally, in some difficult cases your support department will be able to quickly visit customers' accounts without the necessity to request login and password.
How to login to Magento 2 as a customer
without the password?
There is a 3-step way how you can log in as a customer with the module.
Go to Customers —> All Customers;
Find the needed customer on the grid;
Next, click the Select link and choose Login as Customer from the dropdown.
Then you will be redirected to the frontend as this customer.
Login as customer and explore your Magento 2 store from a new angle
The single button to avoid tedious credentials requests. The one-click ability to explore shopper's account and the entire Magento 2 store from your customers' side. The 'Login as Customer' button is available in every customer profile in the backend zone of your store. Open the profile, click the button and you will be directed right to the account dashboard.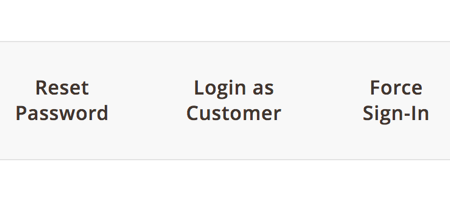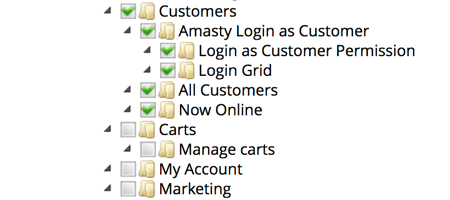 Utilize the login as customer functionality to the full
As many store owners prefer to have multiple sub-admin users, it is very useful to have several user roles with different permissions. Magento 2 Login as Customer extension allows you to distribute the ability to login as a customer to selected sub-admins depending on your specific needs.
Track the admin activity in customers' magento accounts
The extension tracks every single magento portal and login as customer attempt. It records date and time, when the login was made, the names of the user and customer, including ID. Also, you can see the exact website where the admin user logged in.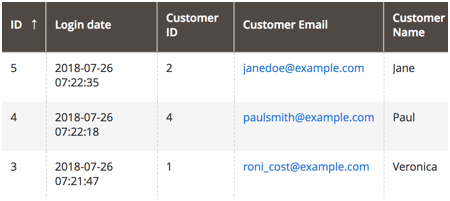 More Options for Login as Customer extension
Choose whether to open a customer account page in a new tab of your browser or in a current tab
Select only those store views of the website a particular customer is associated with
To better understand your customers it is important to sometimes take a fresh look at the store. With the 'Login as Customer' button one can easily enter any available shopper's account to browse the Magento 2 store as a potential buyer. This simple solution can become essential on the way to achieve the higher conversion rate and win more loyal customers.
How to make force sign-in in Magento 2?
Log in to the admin panel and navigate to Customers > All Customers.
Scroll down and find the needed customer account.
In the Action column, select Edit.
Click Force Sign In.
Confirm the action.
Other Features
100% Open Source — Easy To Customize
Follows Magento Code Architecture
Separated HTML/CSS/JS
Simple installation via Composer
* The name "Magento" and the logo are the trademarks of Magento, Inc.
Helped us to improve customer satisfaction
Uranic, Inc. , E-commerce Director
The module helped us to significantly improve customer satisfaction. I will recommend it to any Magento store.
Amasty answer
Dec 30, 2020
Alena Hamolka
/ Product Team Lead
Hi Jason, thank you for the review! It is great to hear that the extension was helpful! We appreciate having you as our loyal customer!
All admins known
I'm using it for 6 months or so. Makes dealing with customers much easier. And with permissions I don't need to remember all admins for 3 stores anymore. It's also good for security. Recommend!
A problem
Al in all it's good, but we have 1 issue. We have 4 branches and we run them from 1 backend. Several times admins couldn't get to users' accounts in 1 branch, only got to main store users. We reported, now waiting for fix.
Reacting faster
My team reacts to customer's queries asap. No more talks, they just immediately login as customer and fix the issue/explain what to do. Before this module, it needed at least 1 hour to react and gather all the needed credentials and permits to access. For soft delivery it's critical. Buyers cancelled orders.
Most needed tool
With this module my store reputation scaled up in just 2 weeks. Admins can finally understand customers. :)
Are you looking to add specific functionality for this extension or want to acquire a reliable development partner altogether? With custom development services by Amasty, you will receive high quality and cost-effective solutions developed by Magento professionals according to industry's best practices.
2.3.6, 2.3.6-p1, 2.4.0-p1, 2.4.1, 2.4.1-p1, 2.4.2
You can always download the recent version free of charge from your account
Installing an upgrade is easy — check now
My Downloads
Version 1.1.0
Last Update: May 13, 2020
New we added a new option "Open Customer's Account in the New Tab" that allows you to decide whether you want to open a customer's account in a new tab or stay in a current one
Improvement now the setting "Allow Selecting Store View to Login" offers you an opportunity to select store views to log in as a customer
Version 1.0.7
Last Update: Sep 26, 2019
Improvement we implemented a stability update for Magento 2.1.x
Fix the issue with logging customers from other websites was resolved
Improvement now you can instantly login as customer right from the Customer Grid
Fix the issue with missing customer name in the header and empty wishlist was resolved
Improvement Magento EE Website Restriction Support was added
Fix one more fix for the multi-website operation
Fix the issue with the extension multi-website operation was resolved