Customer Attributes
for Magento 1
Customer Attributes Magento 1 extension is a powerful tool to get the necessary data directly from your customers in an easy way. Place fields on registration page to know age, preferences and interests, receive documents and all other information you may need.
Add unlimited number of fields to registration page
Effectively manage the collected data in admin panel
Multiple field types supported, dependent attributes, etc
Find out personality and behavior of your clients
Activate new customer accounts manually
Conduct an effective customer segmentation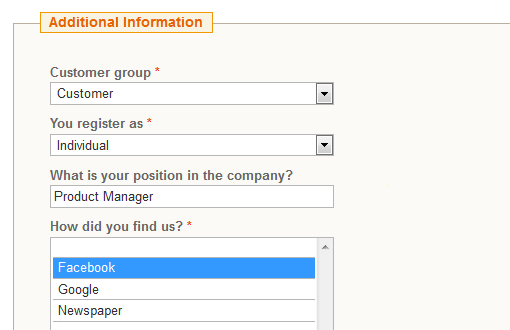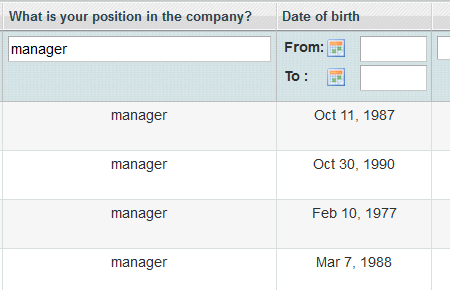 Add any customer attributes you need to the registration page. Gather important customer data and easily sort customers by their attributes on the backend.
Collect all necessary info about customers to provide better service and get more profit
Get all business-related and personal information needed
Our Magento 1 customer attributes extension enables you to create unlimited number of additional Magento registration fields to collect as much information as you need. You can let customers upload documents, images, let them select from available options, type their own text, leave comments, etc.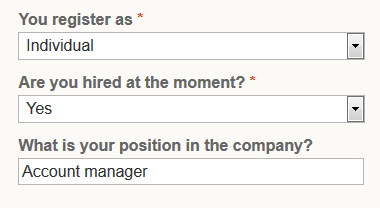 Make a big step to customer loyalty
Collect info about your customers to fulfill more of their needs. Find out the key reasons for choosing your store as well as the things your customers are not satisfied with. Know your customers' personal information such as date of birth, hobbies and make specials according to this info. For example, you can send discount coupons on special occasions! Let customers feel they are taken care of and they will pay you back.
Show additional fields to your customers In Registration Form
Gather information from as many customers as you can by displaying attributes both at the registration page and billing info page (for the customers who register during checkout). You can also check out our Order Attributes module that collect customers' address info.
Collect different types of information
Get graphic or text information by creating customer service attributes of different types. Let the customer answer open or closed questions, upload any file, e.g. photo, document or a passport scan or choose from the list of options.
See all the attribute information on the grid
With 'Manage customer attributes' grid you can see all the details of created attributes at a glimpse. The grid contains information on the attribute type, sorting order and where the attribute is shown.
Choose the order in which attributes are displayed
Optimize the list of attributes in the way your customer won't get tired while filling in the Magento registration fields. Specify the order of attributes display for better information perception.
Easy attributes sorting in the backend
Now all the custom attribute fields that you've created for customers will be automatically displayed in your backend in the same order. This option will significantly optimize customer info processing by allowing faster and easier find necessary fields in the admin panel.
Hide the custom registration fields on Account Information page and Billing page if they had been filled in before
Sometimes it's really not necessary to bother customers during the checkout. Now you can remove the custom attributes from Account Information and Billing Information pages if they had been filled in before (e.g. during registration).
Build handy usage reports with visual graphs for selectable attributes
With the reports tool you can easily keep track of customer attributes usage. See detailed statistics based on various selectable attributes such as checkboxes, multiple selects, drop-downs and radio buttons. Use customer data for your marketing goals.
Make your Magento store user-friendly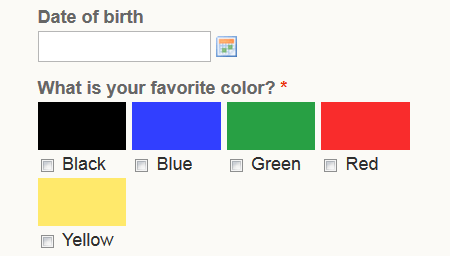 Upload images for checkbox and radio button field types
Uploading images in addition to text descriptions will make your registration page both more visually attractive and more user-friendly. Some options may be difficult to understand, so the images will help customers to make the right choices.
Use dependent attributes
Have a long list of attributes? Need to ask for additional information only when a customer selects a particular option? Make attributes display only when a particular value of other attribute was selected. E.g. show the list of European divisions to choose from only when 'Europe' region is selected. Or ask for detailed description of the issue if the customer's answer for 'Are you satisfied with our service?' is 'No'.You can ask what customers like about your products the same way.
Place static information on registration page
Use static text to display the info, which customers should learn during registration process (e.g. terms and conditions).
Use any custom attribute for login
Let customers use any custom attribute for login either instead of or together with email. If used together, customers will be able login either with email or with the custom attribute. So you can allow customers to login with their usernames instead of emails for example.
Choose additional custom attribute for "forgot password" functionality
Now in your Magento 1 you can add special customer attributes to make the password recovery process even more convenient. Let them use the same custom attributes as they use while registration to retrieve forgotten passwords.
Talk to customers in their native languages
The module allows selecting store views on which to display the attributes in Magento registration form. Setting unique field title and default values for each store view gives much convenience, if you have a multi-language store. Make your customers pleased by creating the custom attributes in their native languages. You can also remove or add fields to registration form for certain store views in cases, when some fields are country-specific.
Use standard address fields during registration
With this option you can enable standard registration fields right on the page of account creation so that customers won't have to specify these data during the checkout process.
Advanced attribute management
Convenient tool to segment your customers efficiently
Add customer attributes to Magento 'Manage customers' grid, sort and filter customers by the attributes. Find common features to define customer segments and adjust your marketing accordingly.
Both admin and customers can manage the attribute values
Admin can fill in the attribute fields when creating a customer account from admin panel. Both customers and admin can edit attribute data. Admin can fill in attribute fields, when creating a customer account from admin panel. Of course, admin can restrict editing of some fields for customers.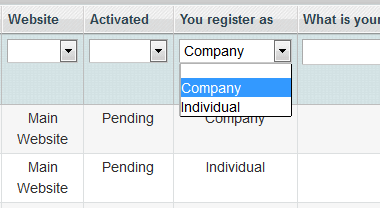 Show the attributes on the order grid to improve order processing
You can display attributes on the order grid to see important customer data, e.g. billing company, right away. This makes order processing faster and more convenient. The attributes can also be seen on order view pages.
Analyze customers' behavior
Displaying attributes on the order grid, you can analyze the connection between customers' personal info, let's say hobbies, and the products they buy. This will help you to create more targeted and thus effective marketing campaigns.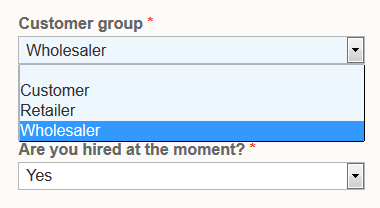 Activate new accounts by customer group or email domain
You can automatically activate new customer accounts for the selected customer groups or email domains. Also, with the extension, you can let customers to select a customer group during registration.
Approve all customer accounts in a click
With the Magento Attribute extension, you can enable all new customer accounts that are in the 'Pending' status in a mouse click. Use the 'Activate' button in the module settings.
Customer attributes in email templates for guests and clients
You can include custom attributes in customer-related emails (e.g registration confirmation, password recovery, etc.) as well as in emails for store guests such as special offers, sales events, reminders, etc.
Specify customer attributes for orders placed on the backend
Now admin users can manually specify additional customer attributes when they create customers for orders placed from the admin panel. Customer attributes can be also added to already existing order pages.
Export of the custom attributes
It is possible to export customer attributes using standard magento export functionality.
Attribute capabilities
Variety of attribute types:
text field;
text area;
dropdown;
checkboxes and radio buttons;
multiple select;
date fields;
static text;
yes/no;
file upload;
customer group selection;
Ability to include attributes in customer-related emails (e.g.registration confirmation, password recovery)
Now in your Magento - Dependent attributes functionality
Multiple options for attribute display: registration page, billing info page, customer account, 'Manage Customers' grid, order grid, order view pages. You can enable and disable display of fields for each of the above locations.
Ability to upload images for checkbox and radio button field types
Optional verification of unique values for attributes
Ability to display customer attributes on the list of customers, which is displayed while creation of order from admin panel.
RUT validation (specific field validation for Chilean market)
The extension supports Magento SOAP API
Validation rules for Brazilian CPF (Cadastro de Pessoas Físicas) and CNPJ (Cadastro Nacional de Pessoas Jurídicas)
Get more information about newly registered customers
Activate new customer accounts manually
By default all new registered customers of Magento store are activated automatically. Customer Attributes extension gives you a possibility to manually approve customers after their registration. This measure ensures that the account is associated with an actual person, rather than with a computer that is setting up fake accounts.
Forbid 'Log in' and 'Check out' actions for non-activated users
In case admin hasn't activated a customer, the user can't proceed to checkout or log in. Instead of these operations he receives the note of non-activated account.
Get notifications of every new customer registration on your email
With the help of Customer Attributes you can set up the notifications about newly registered customers. This useful option allows you to activate new customer accounts in time and keep a track of every new registration. If it's required you can sent these notifications to several admin emails.
Notify customers of their account activation
Send welcome nurturing emails for new subscribers and gain more customers' loyalty.
Customer Attributes Video Review
Comply with the latest GDPR requirements
Use our Magento GDPR extension to fully comply with the latest GDPR requirements and keep all customers' data in accordance with the law.
Product questions

How to add new attributes inside a form?

Having decided to add new attributes inside a form, all you need is to insert a special code into the template. Go on reading to copy the code and make all the settings correctly.

Can I use created customer attributes on sales order grid?

Yes, you can add new Magento custom fields to the sales grid to sort and filter by them.

Is it possible to export/import created customer attributes?

Customer Attributes extension provides an option to export submitted values. However, there is no way to import this data.

Can I use Customer Attributes only in one store in a multi-store configuration?

Each customer attribute created by our extension can be seen on one store view and hidden on another.

Can I use different customer attributes in my multiple store views?

Yes, it's possible to set different attributes per different store views. If you have a multi-language store, you can create the attributes in customer native language and remove/add fields to the registration form depending on the store view.

Will new attributes be seen when creating a customer from backend?

Yes, all the new custom attribute fields for a customer will be automatically shown in the same order in your backend. You can add custom attributes to a customer profile and see the result immediately in the backend. Read on to see the screenshot.

How can new attributes be used with Magento API?

You can use new attributes with API having created two files and added them to different directories. Continue reading to see how to make correctly.

Read the FULL answer

Can I add created customer attributes to order emails?

Yes, you can add the attributes to all customer related emails using special variables in the custom attributes configuration. Read on to get a step-by-step instruction.

Can registration fields be changed depending on customers' answers?

Yes, Magento registration fields can be changed, since the module has dependent attributes functionality. This means questions display specific questions depending on the answer to the main question.

Will this Customer Attributes extension work with one page checkouts?

Usually Amasty extensions have no conflicts with other 3-d party modules, but in case there will be any, just contact our support team. The module is 100% compatible with our One Step Checkout plugin.

Are customer attributes available using the Magento API?

Yes, attributes created using Customer Attributes extension are available via Magento API. These attributes work in the same way default do (like first name, birth date etc.). All actions that are possible with the default attributes, are also possible with the custom ones.

How to output the customer attribute value in the e-mail template?

For getting the variable in the email template you need to create a new template, get the customer attribute value to it through the code and assign the new template.

Read the FULL answer

How to get/output customer attribute value via PHP code?

With the usage of the module, you can output the value using a line of code. The patch and the settings are highlighted in a complete answer.

Read the FULL answer
Other Features
100% Open Source — Easy To Customize
Follows Magento Code Architecture
Separated HTML/CSS/JS
Simple installation via Composer
* The name "Magento" and the logo are the trademarks of Magento, Inc.
Fantastic module - Awesome support
I have used the Customer Attributes module on several sites and it is one of my go-to modules to install on any new site.
Works brilliantly, and support is excellent.
Highly recommended.
Excellent Support
Like many situations when combining several Magento extensions, they do not always work well together. Dmitry was extremely helpful fixing a problem that was being caused by a conflict with an existing extension from a different provider. The extension works perfectly. This is an outstanding company to do business with.
great plugin
Plugin with many customizations
Great Support and Great Product
This extension worked great out of the box, and when we needed some help with conflicts with other extensions on our site, they fixed it super fast. Highly Recommend Amasty and their products. Thanks!
Great extension / super module !
This extension is really as described by the developer. We took the installation as well and we must say that Amasty team did all the necessary to make it work perfectly. And all this very fast.
Great extension / super module !
This extension is really as describe by the developer. We took the installation as well and we must say that Amasty team did all the necessary to make it work perfectly. And all this very fast.
Excellent Extension and Fantastic Support
I needed the customer attribute extension for some additional details we needed from our customers during the registration process. The extension worked very well for us.
We ran into a few issues because of conflicts with other modules on our website and the Amasty support team resolved them for us and the turnover time from support is very quick and in no time I had all my issues sorted.
I am very happy with the extension and the support I received.
Real bargain
Ultimate functionality for reasonable price. The plugin has been running for a year already, and we didn't have any issues with is so far. All settings are correctly displayed on the checkout and bring us tons of useful data every day.

The one more great advantage is that the settings are very intuitive and can be easily configured by any newbie like me.
Works well and great support
we have a shop where there is already a customer activation available and with this extension now a second time would have been. Thanks to the fast and free support, which eliminate this part of her extension. I am always very pleased with the extensions and the support of Amasty.
Another Great Extension from Amasty
Any time I need an extension, I go to Amasty first. They have most of what I need, but most importantly, they back it up with fantastic developer support.
The Customer Attributes extension ran into a couple of software conflicts with other author's software. Amasty fixed the problems for no extra charge.
I recommend this product!
Great extension ... even greater support!
We bought the extension for a customer and it works exactly as promised. Amasty's outstanding support made it compatible with OneStepCheckout extension and fixed another extension compatibility issue we hadn't even been aware of. Absolutely recommended!
Great extension and Great Support
Amasty is one of the best developer for Magento. their work is always excellent.
there was a small issue due to another extension from a third supplier. the Support of Amasty has taken care of it immediately and very professional
this is not my first purchase from Amasty and it will not be the last one.
5 Stars
I recommend Amasty for every Magento Shop Owner.
Just what I needed, superb support
We needed an easy way to define additional customer fields and also to be able to use these fields in our emails. This module did exactly that.
After a Magento upgrade along with the installation of other 3rd party modules, we also encountered some compatibility problems. However one of Amasty's developers logged into our system the next day and was able to identify and fix all of the problems.
We are very satisfied with our purchase and the support received.
Awesome extension, great support!
This extension do exactly what it is supposed to do.

Their support team is really quick and comprehensive.

Would recommend to everyone that need to quickly add customer attributes.
Great
The only thing better than this extension is their service. Have always trusted Amasty and will continue to do so.
Great extension !
Great extension, must have !
An support so fast !!

Excellent Product—Even Better Support
The product works as advertised and is a huge help to us. My standards, in general, are very high as a result of my experiences with Amasty. They set the bar in customer service as well as development. In fact, they set the bar so high, some other developers aren't even aware that the bar exists. Ha! Our company continually finds value in Amasty's product line. The broad spectrum of tools and enhancements for both end users and admins truly take Magento to the next level. Thank you Amasty for yet another excellent tool. Keep up the great work, the Magento community needs you.
Amasty—the Gold Standard in Service & Quality
I am tremendously impressed with Amasty's level of support. In the past, Magento Extension Developers have simply disabled the other party's extension that was conflicting with theirs and acted as though it was an acceptable fix action. Amasty, on the other hand, took the time to make adjustments in code that allow our existing extensions to work together with theirs. Then without being asked, they provided me with the changed files and the backups that they made in case I needed to revert the changes. I applaud their effort, support and attention to our needs. Amasty has demonstrated an exceedingly high level of professionalism and efficiency. It is evident that Amasty has a concrete understanding of both coding AND a sincere concern for the needs of your customers. I stand firm in my belief that Amasty is hands down the best Magento Developer on the market today, and I will continue to tell every Magento user that will listen. Bravo.
Very good support, effective plugin
Useful extension.
Had an issue, being solved very effectively and quickly by the support.
RFE: will be very nice to be able to define a custom pattern/regex for field validation without having to touch PHP code.
+1

Easy to add custom attributes
Really easy to use, we have added several custom fields to the customer profile, and they can be automatically edited in back and front-end. If ypou need to add fields to the customer profile, this extension is perfect.
The customer service from Amasty is excellent, we had an issue and they didn't give up until it was solved.

Great extension and great support from Amasty
Installed the extensions, but it conflicted with another module - hopefully the Amasty team were happy to help out and every thing works perfectly now.
Great extension and great support from Amasty!

A huge step to understanding customers
Just 2 words: great and handy.
This functionality has greatly helped me in sales analysis. I've added my new custom attributes to the sales report and now I have a more detailed picture.
Works for me
This is a good mod to get to know your customers better. I only wish I could replace the native Magento registration fields with the custom ones.
Close to perfect
The extensions widens marketing opportunities as I can collect the info I need and then use it in my promotions and special offers. However, I need some specific features added and already emailed them to Amasty. Waiting for the answer.
Great tool for building audience
I'm selling gifts for pets. This extension lets me add additional fields to discover pet's name and date of birth. I further use this info for my promotions. Works great for me!
Great extension to get customer information
All custom attributes you make you can choose to display in the order PDF Magento makes, which is also useful in my case, because I do not want store owners name to be on the PDF, but rather the company's name to make it look more official.
Support
Excellent support from module developers.
advanced plugin
I bought this extension only about a week ago, but I already have something to say :) The module is not difficult to install, it comes with very detailed instructions. But we had some problems with our theme and needed customization. Amasty team solved the issue in just a couple of days and for a very reasonable price. Good product and fantastic support; well done!
Awesome app for multiple attributes
One more quality tool from this developer. Smooth installation and quite intuitive interface, that's what I appreciated most. I easily coped with the settings - everything is properly displayed on the frontend. What was really disappointing is that I still don't know how to change time and day formats for corresponding attributes. Please, add this option to the app in future.
Support
I had some problems with module installation and i was sorted out in a short period of time.
Excellent support from module developers.
Keep up!
Special thank you to Dzmitry Smolik :)!

reliable developer
Nice app that made my life easier. Due to quite detailed manual, I managed to configure the settings myself - lucky me;) Before installing the app I wasn't sure it would work with my current ECO theme. But the support guys fine tuned the app for me in about a day or two.

I highly recommend the tool if you need to collect some customer data without any additional efforts.
Impressive possibilities
Thanks a lot, guys, you did a good job on this extension. It is easy install, easy to configure and realty easy to use. We managed to do it all ourselves without any support tickets. That felt really nice :) I strongly recommend the module to all magento store owners who need to unobtrusively collect customers' information. The plugin works exactly as described and looks really nice on the frontend.
works fine
It works for my magento 1.9.0.1 version. The installation was absolutely painless and everything seems to be ok.

The only issue is that their support team never works during the weekend, so I had to wait for two days until they replied to my ticket and helped to eliminate the conflict with another app. Nevertheless, the tool itself is very handy and properly displays all specified attributes on the frontend.
The best one out there!
We provide a variety of customer services. For such business it is crucial to have some kind of profile for each customer, additional info helps to make the best individual offer. Our online operators have tried asking a couple of questions during online conversations with customers, but this idea didn't work out well. People are not ready to answer questions, often customers even get annoyed.
We started to look for some solution and turned to this module. And it does exactly what we were trying to arrange! There is no more need to bother clients with any additional questions, all we need to know fits in just a couple of fields. Brilliant solution! Our customers and our staff are both really happy!
Superb addon
After we installed the extension, a conflict with the 3-d party module appeared. The problem was resolved within several hours by excellent support. The module itself is also pretty useful for marketing purposes. Now we offer each customer a B-day gifts and discounts and collect some very useful data. Customers are satisfied and more loyal, staff has better basis to develop marketing strategy. I do recommend this module to everyone! Thanks!
Easy to Install and Configure
Quick and easy install, and options in the backend are easy to configure. The one issue I had was with placement in the checkout for these fields. Their support helped get it moved where I wanted it, and hopefully they are going to add this feature to a future release. Support is always good and will make sure they get things right.
Handy tool with great functions
This is a very good extension. It's easy to set up and configure, it is designed pretty well .Regular releases with new features and possibilities, timely updates are also a plus.
Go on working, Amasty!
Excellent Support
Whenever I'm looking for a new feature I go to this company first as I know I can rely on them to help us work out any of the kinks that might arise.
Great Extension
Worth every penny as opposed to the FOC ones that are out there. Very versatile and great support once again from Amasty.
все ок
очень мощный модуль по своему функционалу. на самом деле еще надо знать, как им пользоваться, потому что можно комбинировать фичи и получать интересный фидбэк от покупателей. до всего доходили своим умом, поэтому есть совет: не просто давать мануалы, а показывать примеры комбинации настроек, юзер кейсы те же. в целом больше проблем не возникало, есть русскоговорящий саппорт.
no bad things
The extension is good and I can't say anything bad about it.
But please add support on weekend. I had a conflict on my store and I had to wait till Monday (turned the ext off before help came).
Good for marketing purposes
We have a store and an offline shop, so we have a lot of direct input visits, also we run a lot of offline ads so it always was a trouble to identify the source of traffic. This extension allowed us to ask people before registration where they came from. Based on this we could see how much they bought and what they bought and leverage our ads budget.
Unfortunately, we didn't use other features that much so I can't say how they work and we didn't need any assistance as it was easy to set up this single feature.
I also appreciate the quality of support. We had a trouble and it looked like the customer couldn't complete the registration. I called the support and we were helped quickly (the reason was not exactly in the extension… but nevertheless).
Ailyin
Magento Connect
good but may be slowish
amasty is a very reliable vendor, and we are using several extensions on multiple stores. no serious complaints so far, the code is clean, we did several customizations and everything seemed to be logical not only on frontend/backend but also in the code structure.
this particular extension can slow down the pages a bit (not everywhere, though). we received a couple of recommendations how to speed it up - however, looks like it's not completely the module's fault. still, the features are great and support is very friendly.
excellent support and development
This module works as advertised. Had an issue on install (which was my own fault), and the support team had me up and running very quickly.

Thanks!
Great Extension - Excellent and Fast Support
I think, there is nothing what they could do better. Thanks a lot.
Useful extension
I chose Amasty over a competitor's extension and it was worthwhile. There was an error after the installation of the extension, but the support took care of it within 2-3 days after we submitted the access info to them.
We used the extension to enable filtering of orders by a customer attribute that we created.
Works Beautifully!
I needed an extension that I can specify sales reps for each customer. Since I already had a couple of Amasty extensions that I was happy with, I chose Amasty again and I was right! After installation, I had a small problem with a 3rd party extension but they worked with me to solve the problem right away. I strongly recommend to choose any Amasty modules. Thanks Amasty!
Great Support
We had an urgent problem. Phoned in and a few hours later the problem was solved by Dzmitry.
Outstanding support.
Very good
The extension works very well, I am especially impressed with the inclusion of being able to attach specific files to each contact.

We have many different types of customers, and it would be great to see an, "add tab" feature in the backend to keep the fields grouped and tidy.

Great extensions - great team!
Out of the box you get a quality product that needs no improvements (except for some minor issues). Support team really does it's best. We'll definitely keep in mind Amasty when looking for some more extensions.
Worked wonderfully, Support is top notch
Installed without issue, and worked exactly as described. Had a few questions answered incredibly fast in a simple, easy-to-understand manner so even unexperienced magento-installers could handle it. Highly recommend the work Amasty is doing - all at fair prices.
Must have extension and perfect support
The extension does exactly what we need.

We installed this on magento 1.7.0.2, there were some problems by some conflict with another extension but amasty team resolved it perfectly. Thanks Dzmitry and all the team.
Excellent Product, Excellent Support
Very easy to use and has many useful features. The functional possibilities that our website can now preform has increased exponentially. And if that wasn't enough, when ever i ran into problem their customer support was more than happy to help. Very fast response times and very detailed in solving problems.
Experts in ecommerce
Having looked at all solutions on Magento connect, this module far and away stood out from the crowd. We commissioned Amasty to make a modification for our specific needs, this was taken on with enthusiasm and above all, our brief was fully understood from the outset. Our modified extension now has the facility to include images - for our purposes this was very much needed! - I believe this will be released as a future update to the module.

The customer service provided by Amasty has been nothing but exemplary. Support have answered all questions posed to them with speed and efficiency. Amasty have made our list as one of the best developers for Magento we have found and would most certainly deal with them again as well as recommend them to anyone looking at this module or any other they provide.

neilkerry,
Magento Connect
Professional module
I am very very satisfied with this great module. Also i want to mention the terrific supportive persons behind Amasty - i had some problems with another extension which blocked a feature and help was very fast and very professional done.

Thanks Amasty for your great help, we see us again for sure!

Stefan M. Moser,
Magento Connect
Great extension
Customer Attributes works exactly as described, and has helped us capture customer information efficiently. Customer support, and the installation was flawless and very prompt. I would love to do business with Amasty again! Thanks for such a great product

Kevin Plumlee,
levingroup.com/store
Simple but useful
Really great extension. Works out of the box, almost none coding.

Works great with import/export because the use magentos attribute logic.

Overall a great module and a impressive fast and good support

Martin Tygsen,
Magento Connect

Quick problems solution
Purchased, installed and then have an extension conflict with the 3-d party extension. Amasty support proposed and rapidly get excellent support from Alex, thank you for this!

Cominaction,
Magento Connect
Awesome
does exactly what it suppose to do. Also the support 10/10 nothing to say just thanks and Yes i do recommend this extension.

I had a problem on the layout, the support gave me a hand and it works perfertly
It works as expected
i tested this extension on magento 1.7.0.2 and works well.
Thanks.
Must have extension! A++
Thanks guys! I've been using your extension since version 1, all my clients love the option, and it saves me time and makes a huge impression on customers visiting their sites and my site. A++ in my books. Thanks again! MUST HAVE EXTENSION! 5 Stars with everything from the extension to support.
Great extension, AMAZING support!
Many thanks to the Amasty team for their extension which works wonderfully, but also their support in configuring the customer attributes extension to work within my site. They went above and beyond and I am really happy with the results. Thanks!!!
Works as described, Great Support
I installed this on 1.7.0.2 and everything for the most part worked perfectly. I contacted support with a few questions/issues. The response was quick, friendly, patient, good English, and solved my issues - something that isn't always common with Magento extension developers.

One of the points I raised was actually a Magento configuration setting, but support was pleasant enough to answer it anyway. The point that was related to the Customers Attributes extension, support actually did a custom fix on my site to get it to work.

Based on the support interaction alone, I'd recommend Amasty extensions.
Good extension - Great support
Useful extension that does what is claimed. Support is excellent. Developers went in promptly, corrected the installation and made it all look good too.
Essential Mod and Superb Support
This mod is one of those that I feel is essential.. we use it to collect additional information about our customers when they register... including the uploading of certain documents we require to sign up (reseller tax certificate for instance).

I highly recommend looking into what this mod can do for your store.... there are many possibilities. An easy one is to find out how new customers heard about you - Google, Bing, website, referral, etc.

Amasty support is top-notch w/ emails being answered usually the same day (sometimes within just an hour or less).

A+++ developer and modules!
Thanks Amasty!
Are you looking to add specific functionality for this extension or want to acquire a reliable development partner altogether? With custom development services by Amasty, you will receive high quality and cost-effective solutions developed by Magento professionals according to industry's best practices.
CE 1.4.x - 1.9.x, EE 1.8.x - 1.14.x
You can always download the recent version free of charge from your account
Installing an upgrade is easy — check now
My Downloads
Version 5.7.6
Last Update: Sep 25, 2019
Improvement we reviewed and enhanced the code
Compatibility the compatibility with the 3rd party extensions was enhanced
Fix the issue with the error on the order grid for the outdated Magento versions was resolved
Compatibility the compatibility with PHP 7.2 and Amasty 'One Step Checkout' extension was enhanced
Fix the issue with displaying date -type attributes in the backend was resolved
Fix the issue with requiring activation for a customer when the option had been switched off was resolved
New the ability to add the validated email domains to the customer account activation settings was added
New the ability to activate all customers with the 'Pending' status was added
Version 5.6.3
Last Update: Jul 16, 2018
Improvement the file downloading process was enhanced
Improvement the stability improvements with the 3rd party checkout extensions was made
Improvement the stability enhancement was implemented
Fix the issue with the default checkboxes on the 'Options' tab of the 'Edit customer attribute page' was resolved
Fix the issue when a customer has been logged out if not activated was fixed
Fix the issue with saving attribute values for guests was fixed
Fix the issue with creation/saving customers from the backend was resolved
Fixed issues with the multiselect and date fields on the Amasty One Step Checkout
Compatibility with Amasty One Step Checkout extension is added
Compatibility with several 3-d party checkout extensions, minor improvements.
Version 5.5.8
Last Update: Nov 27, 2015
Fix for filtering by customer attribute on the orders grid page
Minor improvement related to correct translation of one option value
Admin routing patch (SUPEE-6788) compatibility
Index for guest attributes added to improve speed
Improvement for setting default values of attributes for existing customers
Minor improvement for account confirmation email logic when customer activation enabled
Minor notification improvements for reports
Customer attributes can now be specified when creating customer during placing order in the backend; and on the create/edit order page
Possibility to build usage reports with visual graphs for selectable attributes (checkboxes, multiple selects, drop-downs, radio buttons)
Version 5.4.1
Last Update: Apr 27, 2015
Customer attributes for guests can now be used in e-mail templates
Customer attributes are now saved for guest orders
Version 5.3.5
Last Update: Dec 02, 2014
Fix for automatic login after registration when customer activation enabled.
Possibility to send customer registration notification to multiple admin e-mails
Minor improvements
Possibility to automatically approve customer based on customer group
Some improvements
Customer activation feature implemented
Version 5.2.2
Last Update: Aug 06, 2014
Possibility to login by attribute on checkout
Minor code optimisation
Now it's possible to enable standard address fields for customers during registration
Validation rules for Brazilian CPF (Cadastro de Pessoas Físicas) and CNPJ (Cadastro Nacional de Pessoas Jurídicas) - in cooperation with Alberto Camin
Possibility to use custom attribute for "forgot password" functionality
Possibility to make attribute required only on front-end
Ability for admin to quickly enable/disable display of fields on frontend
Correct sorting of attributes in the backend (sorting order works in the backend now)
Version 5.1.6
Last Update: May 27, 2013
Precise adjustment for attribute display on front end.
Ability not to display attribute fields in Customers Account Information page and Billing page, if they were filled in before.
Trigger for 'Date' field.
'Type' field added to Customer attributes grid.
Fixed issue with customer group selector.
Fixed issue with Admin Access Control List.
Fix for customer group selector.
Improved compatibility with custom design themes.
Fix for unique value check on billing information step.
Fix for deletion of customers.
Bugfix for visible on frontend setting being saved incorrectly in Magento 1.4.2.
Version 5.0.10
Last Update: Feb 08, 2013
Bugfix of attribute display for cases when 'All Store Views' option is selected.
New attribute type - file upload.
Selection of customer group on registration.
Bugfix for table alias, table index keys, customer group selector, incorrect display of Yes/No attribute.
Version 4.2.0
Last Update: Dec 07, 2012
New attribute type - 'Yes/No'.
Version 4.1.8
Last Update: Nov 05, 2012
Fix for Magento 1.4.1.x (undefined Mage_Customer_Model_Form object)
Fixed issue with dependent attributes in IE browser.
Fixed issue with validation of mandatory attributes during saving of customer accounts.
Ability to show customer attributes on order grid
Optimized grid integration, which minimizes chances of conflicts with other modules
Easier installation process (for Magento of versions 1.4.2 and newer it is not needed to patch the templates)
Bugfix
Version 3.0.0
Last Update: Aug 20, 2012
Dependent attributes. This feature lets you display certain attributes only when a particular value of other attribute was selected.
Ability to make fields read-only. Customers can view the values specified in such fields and not edit them. Only admin can edit such fields.
Static text field. With the help of this field you can to display text to customers on registration or customer account page. E.g. terms and conditions.
RUT validation. Specific field validation for Chilean market.
Version 2.4.0
Last Update: Apr 03, 2012
Ability to display attributes in account information section on order view pages in admin panel.
Additional setting for display of attributes on registration page.
Version 2.2.0
Last Update: Jan 01, 2012
Ability to display customer attributes on the list of customers, which is displayed while creation of order from admin panel.
Version 2.1.4
Last Update: Aug 24, 2011
Compatibility with Magento 1.6.
Performance optimization.
Version 2.0.0
Last Update: Jul 14, 2011
Improved compatibilty with 3-party customer-related extensions.
Bugfix.
Version 1.4.1
Last Update: Mar 30, 2011
Ability to use any custom attribute for login either instead of or together with email (if used together, customers will be able login either with email or with the custom attribute).
Two new field types - checkbox and radio button
Ability to use images for checkbox and radio button options
Ability to automatically verify that customers fill in unique values for attributes
Version 1.1.3
Last Update: Jan 14, 2011
Fixed issue with orders placed from admin panel for Magento 1.4.2
Compatibility with Magento 1.4.2
Multiple select fields
Ordering of fields on front end
Version 1.0.5
Last Update: Jul 02, 2010
Ability to indicate at which store views the custom attributes should be displayed
Added compatibility with 3-d party "Customer Activation" extension
Added compatibility with Magento 1.4