Login as Customer
for Magento 1
The extension helps store managers to provide visitors with better service by assisting them at checkout and solving other difficulties right in the customers' accounts. Login as any customer in a mouse click.
Use the 'Login as Customer' button to identify your store weak points
Take a fresh look at your store with the visitors' perspective
Enable particular user roles to login as customers
Track and store all login attempts
Manage login attempts log and set up automatic clearance
Identify problems that spoil successful conversions and find out what is preventing customers from becoming loyal to your store. The Login as Customer extensions provides you with the unique ability to look at your Magento store with the customers' eyes. On top of that, you can easily enhance your support efforts by getting to the required accounts without any credentials requests and accompanying shoppers at checkout.
What benefits do you get for your store?
Login as any existing customer in one click
Distribute the login as customer functionality between the admin users
Track all admin users actions related to visiting customers' accounts
How to login as a customer?
With the Magento extension, an admin user can easily view customers' accounts with their own eyes.It's a simple 4-step operation:
Open Admin panel and navigate to Customers → Manage Customers;
Choose the customer on a grid;
Click Login as Customer in the account. Note that if the customer is assigned to several store views, you may need to choose the relevant one to login;
Go to the customer's dashboard on the frontend.
Multi store support
On top of that, the module supports multi store Magento installation. When a customer is assigned to multiple store views, an admin user can select the particular store view to login as the customer to.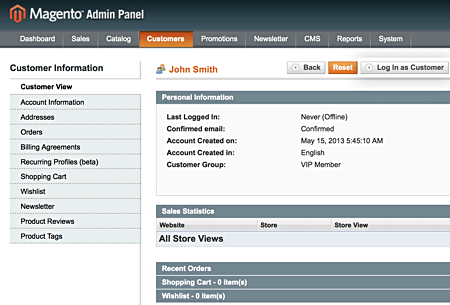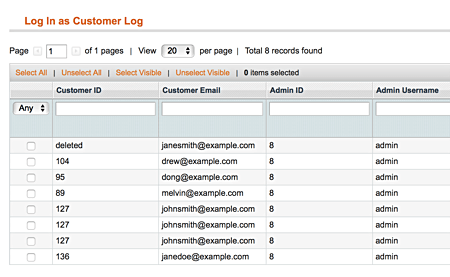 Complete login actions history
The Login as Customer Magento extension tracks all admin activity related to the module's capabilities. Every single login attempt is stored and can be viewed in details on the special grid.
Automatic grid cleaning
All records in the log can be removed manually or automatically. In the extension settings you can adjust the time period to erase the outdated login attempts and clear the log. Also, it is possible to restrict certain admin users to delete records from the log.
Permissions for admin users
The main store administrator can grant or deny access to the login as customer functionality for other admin and sub-admin users. Also, the access to the login attempts log can be provided or forbidden for particular backend staff.
Other Features
100% Open Source — Easy To Customize
Follows Magento Code Architecture
Separated HTML/CSS/JS
Simple installation via Composer
* The name "Magento" and the logo are the trademarks of Magento, Inc.
Be the first to review this product
Login as Customer
Are you looking to add specific functionality for this extension or want to acquire a reliable development partner altogether? With custom development services by Amasty, you will receive high quality and cost-effective solutions developed by Magento professionals according to industry's best practices.
CE 1.4.x - 1.9.x, EE 1.8.x - 1.14.x
You can always download the recent version free of charge from your account
Installing an upgrade is easy — check now
My Downloads
Version 1.0.2
Last Update: Feb 12, 2020
Fix we solved the problem with authorization in wrong customer account
Fix the possible issue with products in the cart was resolved