Order Status for Magento 2

|

v1.0.2
Screenshots:
Want to expand native Magento functionality with more informative order statuses? Need an easy-to use tool to speed up order processing and help customers to keep track of their orders? Due to the Order Status extension for Magento 2 you'll be able to create as many statuses as you need and notify customers about status change either automatically or manually. Hide default Magento order states and easily manage custom order statuses on a handy grid.
Improve order processing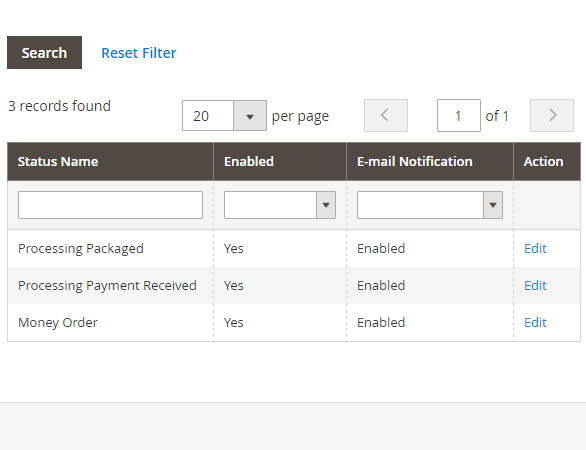 All created custom order statuses are displayed on a special grid
Specify to which default order states the status will be applied
Enable automatic email notifications and choose email templates
Change order statuses from the order view page
Prevent the display of default order states
Sort orders by custom order statuses
Create custom order statuses
With the Custom Order Status Magento 2 extension you can create multiple order statuses according to your specific requirements. Display all custom statuses on a handy grid to keep necessary info at hand and quickly find necessary statuses in a couple of clicks.
Specify email templates for order statuses
Due to flexible settings admin users can specify custom email templates for each particular order status. Apart from that, with the Magento 2 order status tool it's also possible to assign unique templates to different store views.
Notify customers about status changes
Automatically send emails to customers each time their order status is updated. This way you'll easily build customer trust and boost repeated purchases. To thoroughly fine tune emails dispatch you can also send notifications manually if needed.
Assign custom statuses to default order states
Specify Magento order states to which each custom status should correspond. It's possible to assign one and the same order status to multiple states. The module also lets you hide default states when displaying order statuses.
Show custom order statuses in a customer account
With the Magento 2 Order Status module you can show all created order statuses on the customer account page to let your clients be aware of the order processing progress.
Modify all created order statuses
Due to flexible module settings you can modify statuses not only for newly created, but for existing orders as well. Therefore, you'll be able to configure all statuses according to your needs right after extension installation.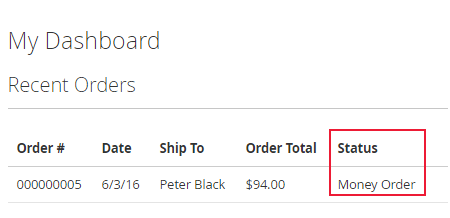 Other Features
100% Open Source — Easy To Customize
Follows Magento Code Architecture
Separated HTML/CSS/JS
W3C Validated Code
Online Extension User Guide
* The name "Magento" and the logo are the trademarks of Magento, Inc.
Simple but extremely useful order managment tool
Thank you, Amasty, for this extension! It was easy to implement and now we use it every day and haven't got any issues. I will highly recommend it to anyone, must have for every Magento shop.
Write Your Own Review
Version 1.0.2
-
April 05, 2017
– Compatibility with Customer Attributes ( use: {{var customer.getSomeAttribute()}} )
Version 1.0.1
-
March 10, 2017
– Compatibility with the Mass Order Actions extension improved