PWA for Custom Form (Add-On)
for Magento 2
Reduce dev costs by implementing a ready-to-use solution for PWA Studio storefront. Quickly generate responsive custom forms for any purpose with user-friendly drag-and-drop form constructor of the Magento 2 Custom Form extension.
Fully compatible with Magento Venia theme
Generate mobile-ready surveys without limitations
Add forms to any place at your web store
Gain customer loyalty with stable performance
Use only as an add-on for Magento 2 Custom Form extension and with PWA theme installed
What are PWA and PWA Studio?
Progressive Web Applications
PWA is a specific web application created to provide an experience that looks like a native mobile application but with additional features.
PWA Studio
Magento PWA Studio includes all needed tools necessary for creating and maintaining a PWA storefront on Magento 2.
Challenge
As 49% of website traffic usually comes from mobiles, we simply can't ignore all these people and lose the opportunity to generate leads and conduct surveys on your webstore. The absence of a mobile version will immediately cause visitors to leave this webpage or drop off the form you've prepared for them. If customers face poor mobile UX, they are 62% less likely to purchase in the future.
Solution
Creating mobile-friendly surveys enlarges the volume of responses and the average number of people engaged. Imagine you've created a lead-generating form. Comparing a mobile-responsive form and an unadapted one, you'll get a completely different number of people at the very beginning of your funnel and, thus a completely different number of purchases in the end.
What benefits do you get for your store
Increase the audience reach of the form adapting it for mobile and tablet users
Reduce development expenses by implementing a ready-to-use PWA solution
Create responsive single- and multi-page custom forms with no limits
Reach greater number of successfully completed forms
Minimize PWA setup costs for your store
The add-on fully supports the best PWA studio practices, which implies less time spent on bug fixing and a much faster project delivery from your development team. Besides, due to the ready-to-use PWA component, the progressive web blog app can be implemented in a split second. As a result, store admins get a stable and mobile-friendly interface without extra costs and custom development.
5 ready-made responsive form templates
The add-on supports all 5 ready-made form templates of the original extension: Request a quote/sample, Feedback form, Loyalty program form, Order Request form and Reservation form. Besides, you can customize the forms with the user-friendly drag-and-drop constructor. Specify form titles and subtitles, configure optional and required fields, set up validation by the data type and more.
Great performance even for the multi-page forms
Create custom forms of any length or page quantity keeping the performance stable on all devices and browsers. The PWA technology is literally designed to increase the mobile loading speed and it is fully compatible with the most popular browsers used by online shoppers, including Chrome, Safari and Firefox.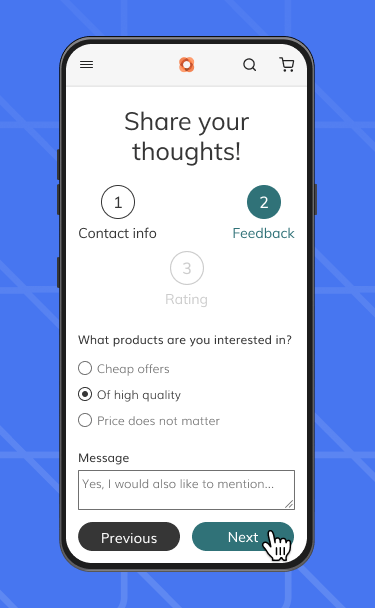 Add forms to any place at your webstore
Embed the form code anywhere at your storefront to create unique customer routes at your website. Add forms to any CMS page via widget in a few clicks. Integrate full-sized forms or use the configuration 'Show on Button click' to make the form visible only by clicking on a button with customizable text. Place such buttons anywhere you need on any CMS page.
Fully compatible with Magento Venia
Keep your store safe from all possible compatibility issues thanks to this PWA add-on developed in compliance with the standards for Magento Venia theme, the official Magento PWA theme. This measure also provides a solid groundwork for simplifying PWA setup, minimization of the implementation time, and excluding the database override.
Responsive design: multi- and single-page forms
Use this additional PWA component to concentrate only on the main goals and purposes of your business: the add-on will automatically optimize both single- and multi-page forms you create. No need to worry about how complicated multi-page surveys are displayed on smartphones and tablets. Configure the original extension settings, specify form questions and receive responses from all devices.
How to correctly install PWA add-ons by Amasty?
This add-on is a ready-to-use solution for PWA Studio storefront, supporting features of the original Magento 2
Custom Form
extension. Please note that for the correct work of the add-on the original extension and a PWA theme must be installed. Learn more from our
PWA installation User Guide
.
Other Features
100% Open Source — Easy To Customize
Follows Magento Code Architecture
Separated HTML/CSS/JS
Simple installation via Composer
* The name "Magento" and the logo are the trademarks of Magento, Inc.
Perfect
Nice add-on, corresponds to the website description. Very easy to set up

helpful
A useful addition. Really helped to speed up the creation of forms and implement this in the mobile version of the site.

Are you looking to add specific functionality for this extension or want to acquire a reliable development partner altogether? With custom development services by Amasty, you will receive high quality and cost-effective solutions developed by Magento professionals according to industry's best practices.
Magento 2.3, 2.4
You can always download the recent version free of charge from your account
Installing an upgrade is easy — check now
My Downloads
Version 1.1.3
Last Update: Jul 01, 2021
Compatibility now you can use forms on pages which are created with Magento Page Builder
Improvement we implemented modifications to the display of required and optional fields to match Venia style for the same elements
Compatibility now the extension supports PWA Studio 10.0.0 (Please, kindly note: since the system is under development the lower versions of PWA Studio are no more supported!)
Compatibility  now the extension supports PWA Studio 9.0.0 (Please, kindly note: since the system is under development the lower versions of PWA Studio are no more supported!)
Improvement we implemented modifications into plugin architecture to make its installation and usage more convenient and to meet the extension standards of PWA Studio
Improvement we performed the code refactoring and optimized the plugin
Compatibility now the extension supports PWA Studio 8.0.0 (Please, kindly note: since the system is under development the lower versions of PWA Studio are no more supported!)
Fix we corrected the process of form submitting in case there are several forms on the same page