PWA for Landing Pages (Add-On)
for Magento 2
Extend your capabilities for making promotions with the PWA add-on for the original Landing Pages extension by Amasty. Boost conversion of specific products by creating unique responsive landings in a few steps.
Ready-made PWA solution out of the box
Magento Venia theme full compatibility
Cross-device and cross-browser compatibility
Use only as add-on for Landing Pages extension with PWA theme installed
What do PWA and PWA Studio stand for?
Progressive Web Applications
PWA is a specific web application created to provide an experience that looks like a native mobile application but with additional features.
PWA Studio
Magento PWA Studio provides developers with needed tools necessary for creating and maintaining a PWA storefront on Magento 2.
Challenge
Researchers say that almost half (49%) of the website traffic comes from tablets and mobiles. This fact makes highly important the creation and maintenance of the responsive version of the store. More than half of site visitors (62%) are less likely to purchase from the store with poor mobile UX in the future. Thus, the add-on saves the day by connecting the original Landing Pages extension for Magento 2 with the PWA-ready storefront.
Solution
The PWA technology makes your store look like a native mobile app and makes a store interface intuitive while the Landing Pages extension helps you to implement catchy visuals and thus boost the efficiency of your sales pipeline. Build converting landing pages for Magento 2 with a user-friendly interface on the backend and let shoppers enjoy them regardless of the devices they use.
What makes PWA add-ons a win-win?
The add-on provides seamless operation of the original extension on PWA-ready stores
You'll reduce development expenses by implementing an out of the box PWA solution
The add-on supports all benefits of the PWA storefront, e.g. faster performance
Convert your target audience from any device
The original extension integration to PWA costs minimized
The add-on is a ready-to-use component that helps you to link the PWA storefront with the original Magento extension with no need for extra development efforts. The component supports the best PWA studio practices and stands for the Magento code quality standards. As a result, your store gets a stable and mobile-friendly interface without extra costs and custom development.
Making landings fully responsive became easier
It's a classic case when the breathtaking landing you've just created takes twice more time and effort to be adapted for all devices. The good news is that the PWA technology was literally built for dealing with such optimizations. Thus using the add-on and the original extension in a combo you'll have little but no issues with mobile optimization of landings - PWA will do it for you. Just use the original extension's config to build the landings and automatically get a fully optimized result on the front.
Performance stabilized even for the landings with lots of media
Landing Pages usually contain various media files, including high-resolution images, and sometimes animation and videos. Usually, it causes page speed to decrease, but the PWA technology helps store owners to highly increase the page loading speed on all devices instead. Besides, it is fully compatible with the most popular browsers used by online shoppers, including Chrome, Safari, and Firefox.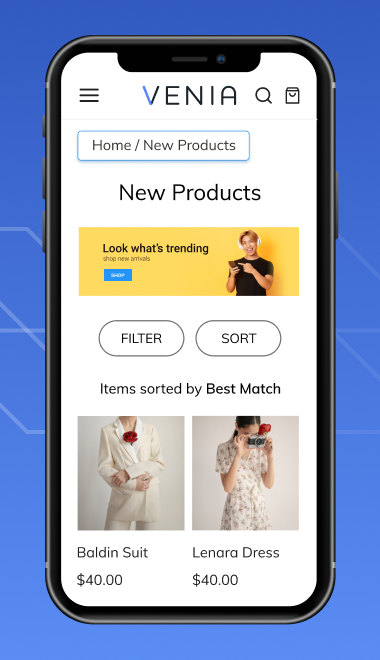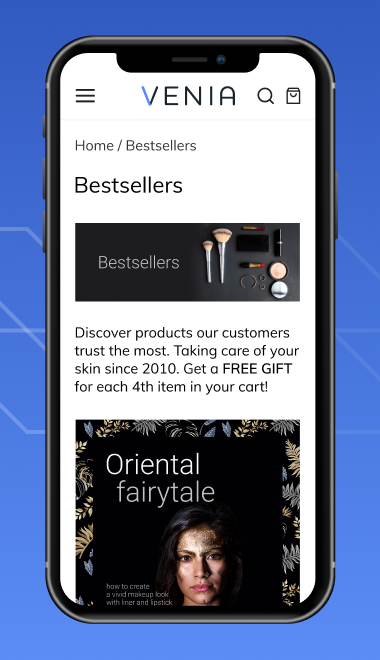 The Adobe's Magento Venia full support
Create eye-catching landing pages without the risk of meeting any incompatibility issues. Enjoy a minimized setup time and avoid possible database overrides thanks to the support of the official PWA theme from Magento. All our PWA add-ons are developed in compliance with the Magento coding standards to provide full support of the Venia theme. This theme works stably and is easy-to-use for shoppers.
Integrate landings to a sitemap in a few clicks
The add-on supports all the key features of the original extension. Integrate landing pages to any place of your site navigation. Thus users will be able to find a link to the landing right on the main menu or in the subcategory. Create SEO-friendly and user-friendly short URLs to increase your Google rating and drive more organic traffic to your website. Specify unique metadata (like title, description, and keywords) to get in search engine rankings even higher.
Merchandise products from the backend
Use the drag-n-drop merchandiser to set up a unique order of products displayed on the frontend. Pick up necessary conditions like SKU, category, price, etc. from the flexible conditions tree to specify products for your Magento 2 landing page. After all configurations are done, use the preview setting to ensure that the page is displayed correctly.
How to correctly install PWA add-ons by Amasty?
This add-on is a ready-to-use solution for PWA Studio storefront, supporting features of the original Magento 2
Landing Pages
extension. Please note that for the correct work of the add-on the original extension and a PWA theme must be installed. Learn more from our
PWA installation User Guide
.
Other Features
100% Open Source — Easy To Customize
Follows Magento Code Architecture
Separated HTML/CSS/JS
Simple installation via Composer
* The name "Magento" and the logo are the trademarks of Magento, Inc.
Be the first to review this product
PWA for Landing Pages (Add-On) for Magento 2
Are you looking to add specific functionality for this extension or want to acquire a reliable development partner altogether? With custom development services by Amasty, you will receive high quality and cost-effective solutions developed by Magento professionals according to industry's best practices.
Magento 2.3.5+, 2.4.x
You can always download the recent version free of charge from your account
Installing an upgrade is easy — check now
My Downloads
Version 1.0.1
Last Update: Mar 14, 2021
Compatibility now the extension supports PWA Studio 9.0.0 (Please, kindly note: since the system is under development the lower versions of PWA Studio are no more supported!)