PWA for Mega Menu (Add-On)
for Magento 2
Accurately navigate customers to the required product with the dynamic mobile menu. Offer smooth catalog navigation from any device and boost mobile sales.
Implement a ready-made solution for the PWA Studio storefront
Provide stable mobile performance for your menu
Enlarge your audience with the cross-browser compatibility
Enhance the mobile navigation menu with subcategories, icons and labels
Integrate Mega Menu with the Magento Venia theme
Use only as an add-on for the Mega Menu extension with PWA theme installed
WHAT DO PWA AND PWA STUDIO STAND FOR?
Progressive Web Applications
PWA is a web application aimed to create an interface similar to a native mobile application, but with extra features for mobile browsing.
PWA Studio
Magento PWA Studio is a set of tools allowing developers to create and maintain a PWA frontend on Magento 2 stores.
Challenge
The percentage of mobile traffic is constantly growing, and in the beginning of 2021, it is already 55.56%. As it is more than a half of visitors, mobile-readiness becomes crucial. To reduce the bounce rate and convert mobile traffic successfully, you should give shoppers what they are looking for with precise in-store navigation.
Solution
PWA add-on for Mega Menu lets you implement intuitive and accurate mobile navigation through your webstore without custom development. Supply your menu with subcategories of any level, add catchy icons and mark specific sections with labels to let visitors find the products they need in a blink of an eye.
Why do you need a mobile-ready menu
Reduce bounce rate and get more sales with a precise mobile navigation
Enhance customer shopping experience with the visualized and intuitive menu
Drive extra mobile traffic to specific categories and pages without marketing costs
EXTEND MOBILE AUDIENCE WITH INTUITIVE MENU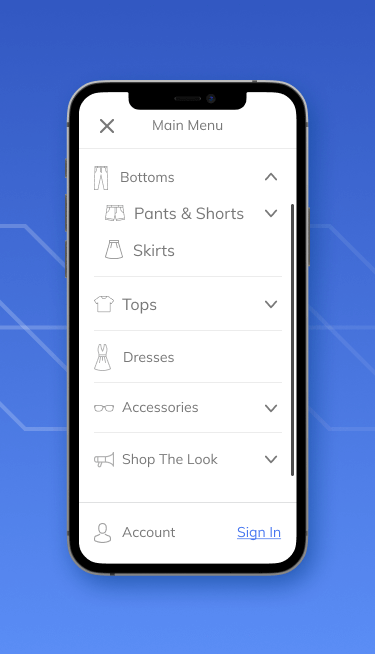 Make the original Mega Menu ready for any device
PWA add-on is designed to make the most effective Mega Menu features compatible with mobile and tablet interfaces. A familiar to customers hamburger menu gives access to navigation from any store page without the impact on the main content. Choose a menu template according to the number of categories you have or just to your business needs: Accordion (to open subcategories in a dropdown) or Drill Down (to display subcategories in a new tab). PWA Mega Menu is highly responsive and works smoothly on any screen resolution.
Display Mega Menu on the modern theme
Magento introduced a storefront specifically for PWA integration - Venia. As it has been developed by Magento, the Venia theme stably works on mobiles without database overloading. To reduce the implementation costs, the PWA add-on for Mega Menu is fully compatible with the Venia theme out of the box, which means that you get a stylish storefront and a stable performance at once. Subcategories, icons and other menu details look native and make an impression of an application with a unique design.
Minimize PWA implementation expenses
Previously, the process of mobile adaptation was impossible without custom development. Now, this costly issue has gone: the add-on applies a ready-to-use PWA component for any Magento 2 store. PWA Mega Menu is developed in strict compliance with the PWA Studio standards so that you could minimize the time spent on its integration into your store and avoid unplanned bug fixing. Additionally, high loading speed on mobile devices contributes to store position on search results pages.
Introduce custom menu design
With multiple customization options, you can create a unique design for your menu. Choose one of the ready-made color schemes (light, dark and bright blue are available by default) or create a new one with the help of color pickers. Add catchy icons to the categories of any level to make the menu intuitive for shoppers. Also, you can promote particular categories by highlighting them with labels. Keep in mind, that the colors for the label background and text can be also configured to meet store design.
Create an effective Mega Menu structure
To engage shoppers and logically lead them across your webstore, customize menu items position with the drag-and-drop builder functionality. Supply the menu with brand new items of any type to provide shoppers with exhaustive info: it can be a new product category, CMS page, blog, etc. Just create a new custom item and set the required link (internal or external). Don't forget to put labels on the important ones to draw customers' attention.
Provide variable cross-device UX
Apart from mobile usage, the Venia theme can offer a good-looking desktop layout. And Mega Menu extension can enrich the storefront with advanced menu options. Thus, you can supply submenus with various media content: add banners, videos, buttons, interactive subcategories display, background images for dropdowns and so on. Unlike mobiles, on a desktop version you can display the full top menu with a custom design.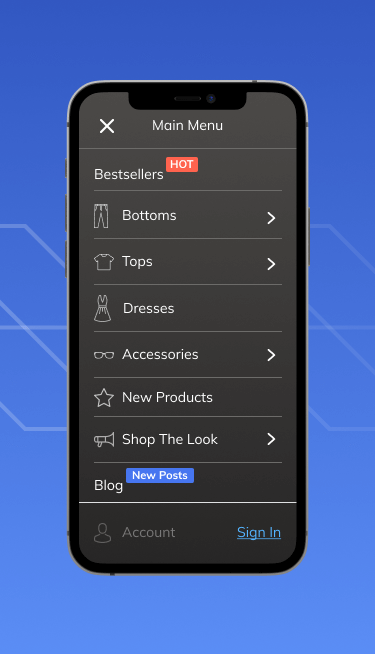 How to correctly install PWA add-ons by Amasty?
The add-on works only if our
Magento 2 Mega Menu
extension is installed. Please note, that for the correct work of the add-on, a PWA theme should be installed as well. Learn more from our
PWA installation User Guide.
.
Other Features
100% Open Source — Easy To Customize
Follows Magento Code Architecture
Separated HTML/CSS/JS
Simple installation via Composer
* The name "Magento" and the logo are the trademarks of Magento, Inc.
Be the first to review this product
PWA for Mega Menu (Add-On) for Magento 2
Are you looking to add specific functionality for this extension or want to acquire a reliable development partner altogether? With custom development services by Amasty, you will receive high quality and cost-effective solutions developed by Magento professionals according to industry's best practices.
Magento 2.3, 2.4
You can always download the recent version free of charge from your account
Installing an upgrade is easy — check now
My Downloads
This extension has no updates yet