PWA for Advanced Product Reviews (Add-On)
for Magento 2
Use the Magento 2 PWA add-on to make the process of leaving new and exploring existing product reviews easier. Provide customers with cross-deviсe comfort in surfing through product feedback.
Implement ready-to-use solution for PWA Studio
Engage users in review threads with images and responsive design
Benefit from the compatibility with import & export add-on
Use only as an add-on for Magento 2 Advanced Product Reviews extension and with PWA theme installed
What are PWA and PWA Studio?
Progressive Web Applications
PWA is a specific web application created to provide an experience that looks like a native mobile application but with additional features.
PWA Studio
Magento PWA Studio includes all needed tools necessary for creating and maintaining a PWA storefront on Magento 2.
Challenge
The importance of user-generated content is hard to underestimate. Nearly 97% of consumers consult product reviews when making purchase decisions. So, featuring reviews on your website is no longer optional - it's essential for establishing transparent relationships with customers. Besides, around 49% of store visitors are used to explore products from mobile, so we have to take seriously the preferences of almost half of the customers.
Solution
The PWA add-on for Advanced Product Reviews extension makes possible using features of the original extension on PWA Storefront. This is a ready-to-use solution adapted for the Magento Venia PWA theme, any further serious development adjustments are not required. Thus, the add-on transfers the Advanced Reviews' functionality on a PWA-ready store to help you engage users with reviews on any device.
What benefits do you get for your store
Attract more revenue with flexible infrastructure for creating user-generated content
Implement a ready-to-use PWA solution to reduce development expenses
Build transparent relationships with your customers no matter what device they use
Engage visitors with user-generated content on any device
Enjoy responsive functionality of the original module
Allow customers attaching photos to their reviews and comment on reviews from others. Enjoy how the attached images and complicated review threads look equally well on a desktop, mobile and tablets. Show attractive overall product rating below the main product description and let users conveniently filter and sort reviews.
Reduce PWA implementation costs
This add-on guarantees safe and sound implementation of the PWA-ready Advanced Reviews extension in your store. The PWA for Advanced Reviews add-on is designed according to the best PWA Studio storefront practices, which means a much smoother project delivery from your development team, and significant reduction of time spent on bug fixing.
Stable cross-device and cross-browser performance
No matter how many images and how often your customers are attaching to their reviews, your store will maintain stable cross-device and cross-browser performance. The PWA technology is literally designed to increase mobile loading speed and it is fully compatible with the most popular browsers used by online shoppers, including Chrome, Safari and Firefox.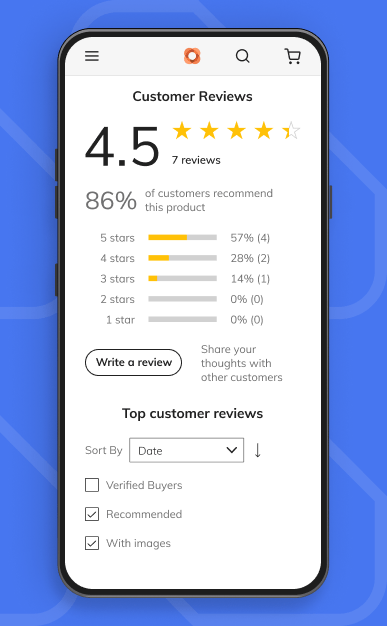 Provide advanced filtering and sorting for the reviews
Help customers to navigate through the feedback of other users with handy filtering and sorting options adapted for mobile. Sort by date, rating and helpfulness (how the reviews were rated by other users). Filter by rating, verified buyers, recommended reviews and absence of images.
Avoid conflicts with Magento Venia compatibility
This PWA add-on is developed in compliance with the standards for Magento Venia, the official Magento PWA theme. It was made to keep your store safe from all possible compatibility issues. This measure also provides a solid groundwork for simplifying PWA setup, minimization of the implementation time, and excluding the database override.
Trigger conversions with push notifications
With a PWA installed, you can trigger push notifications to your audience, thus motivating customers to leave reviews or do any other valuable action. Besides, with PWA compatibility, users will get a one-click access to your website via app-like icon, which will be displayed on the homepage of the mobile phone. This way, it's much easier to grow a loyal base of customers that will return to buy at your store, over and over again.
How to correctly install PWA add-ons by Amasty?
This add-on is a ready-to-use solution for PWA Studio storefront, supporting features of the original Magento 2
Advanced Product Reviews
extension. Please note that for the correct work of the add-on the original extension and a PWA theme must be installed. Learn more from our
PWA installation User Guide
.
Other Features
100% Open Source — Easy To Customize
Follows Magento Code Architecture
Separated HTML/CSS/JS
Simple installation via Composer
* The name "Magento" and the logo are the trademarks of Magento, Inc.
Good
No installation hassle and ease of use. All these words are about this addition.

5 star from me
I was pleased with this add-on and its compatibility with import & export add-on. Together with this module the process of customizing review data and review managing became user-friendly.

Are you looking to add specific functionality for this extension or want to acquire a reliable development partner altogether? With custom development services by Amasty, you will receive high quality and cost-effective solutions developed by Magento professionals according to industry's best practices.
Magento 2.3, 2.4
You can always download the recent version free of charge from your account
Installing an upgrade is easy — check now
My Downloads
Version 1.1.2
Last Update: Apr 22, 2021
Compatibility now the extension supports PWA Studio 10.0.0 (Please, kindly note: since the system is under development the lower versions of PWA Studio are no more supported!)
Compatibility now the extension supports PWA Studio 9.0.0 (Please, kindly note: since the system is under development the lower versions of PWA Studio are no more supported!)
Improvement  we implemented modifications into plugin architecture to make its installation and usage more convenient and to meet the extension standards of PWA Studio
Improvement  we performed the code refactoring and optimized the plugin
Compatibility  now the extension supports PWA Studio 8.0.0 (Please, kindly note: since the system is under development the lower versions of PWA Studio are no more supported!)