Size Chart
for Magento 2
Provide user-friendly information on differences in sizes by brands, countries, and item types. Help customers find the items that fit them and avoid returns thanks to clear sizing guides with Size Chart extension for Magento 2.
Display user-friendly size charts for any product
Use pre-made templates for most popular apparel types
Add photo, video, animation, and attribute sets to your tabs
Create as many charts as you need to cover brands' specifics
Assign size chart to product or categories via conditions
Customize the size chart content with WYSIWYG editor
Why do you need a Magento 2 size chart?
Size charts are the must-have elements of a webstore dealing with clothes. This statement applies not only to popular brands (see the size chart of Levi's), but also to marketplaces (check the Amazon sample). Let's find out 3 main reasons why all apparel businesses use it:
Well-designed size charts contribute to UX, making a webstore user-friendly;
Accurate information increases the chance of purchase and reduces the chance of refund;
Providing multi-language and brand-specific charts helps to grow the audience faster.
Challenge
8 out of 10 returns in fashion e-commerce are linked to the size and fitting issue. When shopping online, a customer has no opportunity to try on the product, and that leads to store abandonment. Moreover, size guides vary from one brand to another, and some countries even have their own size systems. Yet, if your store has several hundreds of products, it's very difficult to provide a size chart for every item manually.
Solution
If your products require sizing, an online sizing chart is essential. It increases conversions, reduces returns and improves the consumer experience. Provide visitors with clear and comprehensive size guides to motivate them to make a purchase decision right away! Benefit from handy pre-made templates for your store that are very easy to edit and match to any brand, country, manufacturer standards.
What benefits do you get for your store
Save time and resources spent explaining size information for every customer
Boost conversions with easy-to-use size guides motivating visitors to purchase faster
Reduce return rates thanks to a clear size charts for any product in your store
EQUIP YOUR STORE WITH FLEXIBLE SIZE CHARTS
Pre-made templates for size charts
With the Magento 2 Size Chart extension, you'll get 6 free ready-to-use templates for your store. After installation, the module automatically generates new tabs: Footwear, Men Tops, Men Bottoms, Women Tops, Women Bottoms, FAQ. Starting up with default templates is really easy.
Create as many Size Charts as you need
Some stores have many items from various brands, and sizing information of one brand might differ from that of another brand. So, how to create a universal chart? The answer is simple - this extension lets you set an unlimited number of size charts to adjust them to a particular brand or manufacturer. Simply select the template you need and click the 'Duplicate' button to create an independent copy that you can modify as you wish.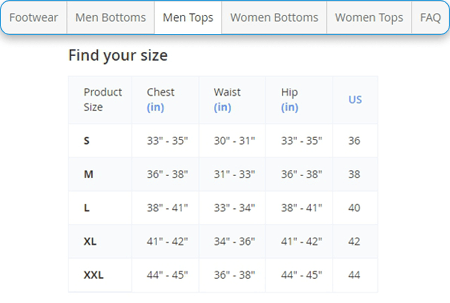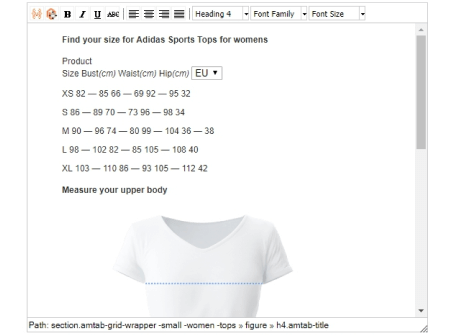 Manage size chart content without special knowledge
Benefit from an in-built WYSIWYG editor that lets store admin quickly configure a size guide in Magento 2 tab! You don't need to dive deep into the code to edit size info. Instead of spending lots of time on crafting the HTML code for each size, type the text and see how it will look on the front-end right away. Additionally, insert widgets, images, videos and format text in a few clicks.
Adjust the Size Chart display
Store admins can select between two display layouts for size charts. In classic layout, the information will be shown in tabs (just like reviews or FAQ). Customers can quickly jump between tabs to get the necessary information. Alternatively, display size charts in the Accordion view that is visually similar to a dropdown — an active tab is expanded while all other tabs are closed. It is highly convenient for multiple tabs or tabs with long names.
Works with any Magento 2 product type
The Magento 2 Size Chart module is compatible with all product types and can be equally good for advising customers on the sizes of clothing, shoes, jewelry, eyewear, hats, etc.
Assign Size Chart to products via flexible conditions
Precisely adjust the Size Chart display to show the correct sizing information. Set Magento rules to save time and display the size guides for all products in your store in no time.
INCREASE CONVERSIONS WITH MAGENTO 2 SIZE CHART
Display any additional info on a product page
Store admins can equip the Magento Size Chart section on a product page with extra information to help users make a purchase decision faster. For example, attach vibrant pictures of models to show how this item will look on different body types. Or enter the video review to build trust to your store. Learn more in the More Options section below.
Offer accurate information for any item
You can specify a size chart for every particular Magento 2 product or let them inherit size guides from a parent category. For example, you have a category selling branded shoes with a peculiar sizing system. Configure the display of the size chart in a relevant Magento 2 category and show it on all subcategory product pages at once.
Address questions in advance with FAQ template
Reduce the anxiety of buying in a new store by giving customers answers to all questions they may have. This is very easy to do — just fill in the updated info in the FAQ template and configure conditions to assign this section to specific products. Moreover, you can create custom FAQs for each product type based on the most popular questions.
Show size charts relevant to customers
As sizing information greatly varies from brand to brand, customers are often confused during online shopping and abandon the store. With this extension, you can instantly modify templates and create as many size guides as you need. Once you've designed a sizing guide configuration with minimum friction and maximum accuracy, your converse will reflect your success.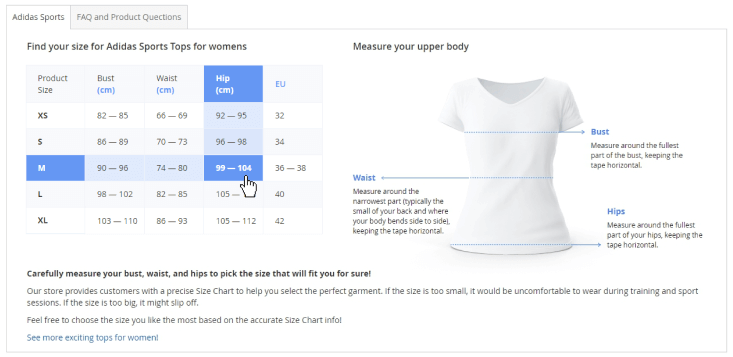 MORE OPTIONS FOR YOUR STORE
Modify the default Magento tabs without coding
Boost the average check thanks to smart product recommendation with the Automatic Related Products
Create stunning visuals for your store with the Instagram Feed extension
Maximally streamline shopping process
Apply our Magento 2 Store Locator extension to let customers quickly find the nearest offline stores with your products by displaying them on a handy Google map. Add Store Locator widget to a custom tab to make your product page drive more offline sales.
Other Features
100% Open Source — Easy To Customize
Follows Magento Code Architecture
Separated HTML/CSS/JS
Simple installation via Composer
* The name "Magento" and the logo are the trademarks of Magento, Inc.
Super easy an' functional
Faced the problem that many people left my store coz' they do not understand which size of clothes to buy. That was a reason to start looking for an extns to attach size charts. And this module is my choice. Great work, guys! Works out of the box, intuitive and functional. Give you a strong A+++.
Good module.
Came to say that it works. Had some troubles with installation, but now it's ok. Works as described.
Must have!
If you're selling clothes or footware - this extension is must have to you! Bought it to add size charts to help customers deal with sizes. Now i add much more attaches and, you know, results are terrific.
Great job
Easy to install & configure. At first, thought it was perfect. But then one thing started irritating me. Each attachment I had to download separately. It was a long an' nervous process. Then I turned back to support with the suggestion to add mass import of files. And what do you think they said? They told me it was a great idea and added the feature to the ext in a very short time! Now the module is really perfect.
Are you looking to add specific functionality for this extension or want to acquire a reliable development partner altogether? With custom development services by Amasty, you will receive high quality and cost-effective solutions developed by Magento professionals according to industry's best practices.
2.4.2-p1, 2.3.7, 2.4.2, 2.4.1-p1, 2.3.6-p1
You can always download the recent version free of charge from your account
Installing an upgrade is easy — check now
My Downloads
Version 1.2.0
Last Update: Jul 19, 2021
New we added the possibility to set the tab anchor, so you can send the direct links to the custom tabs
Version 1.1.9
Last Update: Feb 05, 2021
Compatibility we added the compatibility with Magento 2.4.2
Compatibility we improved the compatibility with Amasty Mega Menu plugin
Compatibility we enhanced compatibility with Amasty Jet Theme
Compatibility now the extension is compatible with Amasty Jet Theme
Compatibility compatibility with Magento 2.4 was added
Fix we resolved issue with empty tab content
Compatibility compatibility with Magento 2.3.5 was enhanced
Fix we resolved issue with Select All link on Related Products tab
Fix we resolved minor javascript issue on product view page
Fix issue with review tab was resolved
Fix issue with customer group condition was resolved
Improvement we enhanced the speed of plugin's installation and indexing
New we added a new feature that allows to easily generate Size Charts for apparel and footwear
New now there is an option to display tabs in a handy accordion view
Improvement we updated the version of the WYSIWYG Editor and made it more convenient in use
Improvement now there are a few UX changes that make Add/Edit Tab workflow easier
Compatibility now the WYSIWYG editor is fully functional regardless of the Magento version
Compatibility the Product Tabs extension is fully compatible with the Amasty Instagram Feed module
Fix resolved some minor issues related to distorted tab view and duplicating the same tab on product pages
Version 1.0.5
Last Update: Aug 28, 2019
Fix issue with duplicating product tabs was fixed
Fix issue with tab block generation was resolved
Fix issue with tab rule indexation was resolved
Fix issue with install script was resolved
Fix we resolved the issue with the review tab
Fix we fixed minor styling issues of Related and Cross-Sell blocks