Increase your average order revenue
Provide customers with emotionally engaging experience
Gift Wrap Magento extension engages customers with a possibility to prepare gifts right on your store. They can pick an appropriate wrap and add a wonderful greeting card to deliver the gift in more personal way. This retains the perception of surprise and evokes emotional reactions that often lead to more loyal clients, social sharing, and recipients who become customers.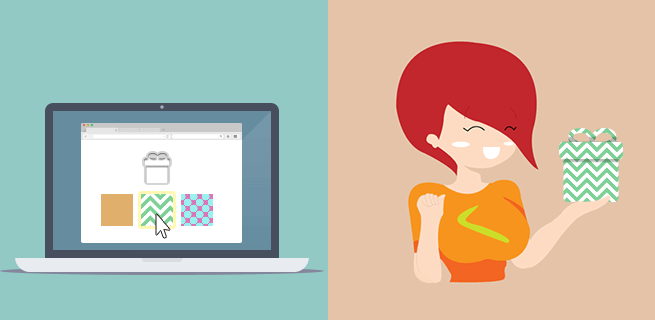 Boost holiday gift sales
Increase your income at the height of holiday season by offering a way to send a wrapped gift. It's a wonderful chance for customers to deliver already decorated items with greeting messages to loved ones who live far away from them. Moreover, the profit margin of wrapping is much more than the margin of a product and can amount up 600%. This will notably increase your average order revenue.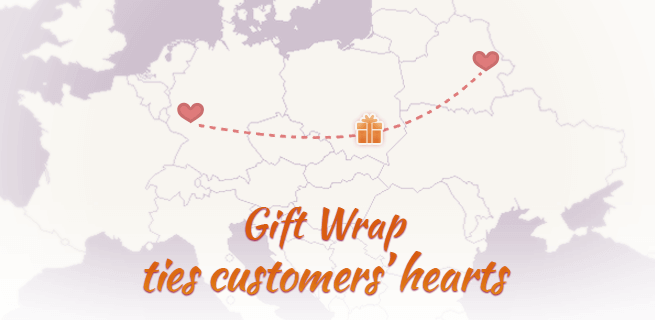 Let customers transform a purchase into a personalized gift
Gift wrapping option on Magento shopping cart page and checkout
Gift Wrap Magento extension takes care to dress up your orders. When customers decided to do a purchase they will see a nice lightbox window on the shopping cart page, as well as a button at checkout which invite them to wrap the order. The pop-up window fits all custom designs, provide great shopping experience, and what is more important does not take much space at the cart page.
Catalogs of wraps and cards on ajax pop-up window
After clicking on the Gift Wrap window customers can see a pretty catalog of wrapping and gift message cards with detailed description and prices. At this step they hardly resist an impulse to decorate their order.
Ability to leave gift message
Customers are able to write a greeting message to recipients making the gift more personalize and especial.
Products can be wrapped individually or together
By the time customers have chosen a wrap design and a card they can decide to package items all together or separately. This Magento gift wrap option makes holiday shopping more comfortable.
Customers can see the wrapping information before placing the order
Customers are able to verify their gift wrap information before placing the order. They can check:
Gift wrap design name;
The name of chosen message card;
Wrapping fee.
In addition all this information can be reviewed in the invoice, credit memo, sales emails and PDF documents.
Ability to save selected gift wrap or a gift card
Since now selected gift wrap or a gift card will be displayed in the first place in the wrapping catalog.
Admin key features
Add unlimited number of wraps and greeting cards
Admin settings allow you to upload various gift wrap designs and a plenty of holiday cards for different events. A wide selection of colored packages will for sure win customers' hearts.
Manage wrap and card names, images, descriptions shown on frontend
With Gift Wrap Magento extension you can upload any images which show elegantly embossed boxes and bags of various size and shape. You can add pictures of a nice-looking bow, ribbon or simply a wrapping paper. Along with images you're also able write compelling descriptions for these items. Make sure your efforts to please customers will be definitely paid back.
Allow message cards for unwrappable items
In spite of the disabling Gift Wrap option you can activate message cards for unwrappable items, thus allowing customers to consider them as a possible gift.
Choose store and price for every gift wrap and card
You can set up price for each gift message card and wrap design displayed on your Magento site and choose the store view for which they will be applied.
Review the wrapping data from backend
All the wrapping information is displayed on the backend: order information page, invoice, shipment and credit memo.
Possibility to disable gift wrap for specified products
In case a certain product can't be wrapped (it may concern virtual products and bulky items) you can switch off the Gift Wrap option for it.
Disabling gift messages
In case you don't want to allow customers to add a gift message to the greeting card you can disable the message form in the admin panel settings.
Admin panel warning notifications
In order to simplify your work with Magento admin panel we created warning notifications that will be shown in case you switched off some necessary options.
Attract more customers' attention with the help of Custom Stock Status extension. Display eye catching icons with gift wrapping service on product pages, so that your clients can see a brilliant possibility for making a gift.
It should also be noted that Gift Wrap is fully compatible with One Step Checkout Magento extension which can significantly improve your store checkout process.
Other Features
100% Open Source — Easy To Customize
Follows Magento Code Architecture
Separated HTML/CSS/JS
Simple installation via Composer
* The name "Magento" and the logo are the trademarks of Magento, Inc.
Excellent extension and support
I was looking for a simple tool with clear functionality. I decided to go with this module because I've heard some good words about Amasty as a developer. I chose to have the module installed by the service team, and they did it quickly. In addition I did want some minor adjustments, and the team did an awesome job, they didn't stop until I was happy. Very pleasant experience!
A small addon to make customers happier
I had this extension bookmarked for a while because I wasn't sure we really need it for the store. Now we are getting ready to add some cosmetics to our products, and for that gift wrapping is a valuable purchase. In test mode the module works perfectly. Just a piece of advice to the developers – if you would place gift options right on the product page, the tool will become much better.
Good experience
I'm using this extension for a few months on one of my sites. I like it and the way it works. At first people were a little puzzled and I received quite few gift wrap requests. I don't know exactly the reason. But then I also added some photos of wrapped gifts to product images and the number of requests increased.
Also it was quite challenging to create a rule for promotion like "Buy X and get free gift wrap" but I managed to complete it. I would like to see this feature in next updates right in the extension.
Easy and convinient gift wraps management
Really good extension for holiday season. I like easy gifts wraps management as each piece can enables/disables any time.
I can't say that adding gift wrap increased my sales immensely, but it surely made the customers happy and increased the number of bought items per account.
Worthful Extension
This is a great extension for the Magento stores, especially during a holiday season. As it provides various features and the possibilities to use it - for Christm as, birthdays and other special events.
The only feature I'd ask Amasty to implement – is the possibility to add a tax to the order. I'm sure that lots of merchants in Europe and other countries need this option. Because at present the user has to set the price manually, and it is very inconvenient. I suggest that tax rules which could be chosen in the backend are added. So the merchant can choose an appropriate tax for the certain product to meet tax government rules. This is the one feature I would love to see in Gift Wrap. Thanks!
Worthy addon for reasonable price
The module didn't run out of the box as I expected and I had to contact the support service to eliminate some pitfalls which came out right after the installation. Fortunately, the developers equipped their office with great support guys. They investigated my case and in 24 hours I got a correctly working addon.
Made me and my customers happy
Organization of virtual holiday service on my cosmetics store seemed to me a crazy idea at first. After a little hesitation I decided to buy this module, as I've already bought Amasty products before and trust this company.
So, after two months gone, I can say that this is truly commercially available idea and extension. What is the most significant I can apply gift wrapping only to certain store view or just to certain products.
There is only one thing which Amasty didn't take into account: ability to count tax on gift-wrapping. I hope they include this option in the next update.
Kollais
Magento Connect
Good for holiday season
I've decided to buy that extension as holidays are coming. I sell personalized mugs so I think that gift wrapping option should add more value to purchase so customers will be pleased.
Among the pluses of that Amasty extension are easy installation and settings, ability to send a gift card with a purchase (many vendors offer gift wrap and gift card separately); easy orders processing on the backend.
There is also one thing I don't like – the extension doesn't show that gift wrapping is available on a product page. To show this you should have custom labels. So I have a suggestion for you Amasty, please integrate this feature in your module, and then I'll give it 5 stars!
HelenaS,
Magento Connect
Good value for the money
Very nice looking popup with the catalog of the wrap options.
And what is important, all docs and emails are working as they should and reflect the new subtotal.

I think in the next version you need to add price calculation options. So if we wrap each item separately we want to multiply the price to the carts item qty.

So five stars for the design, price and compatibility, but I think you can add more features as well.


Write Your Own Review
Version 1.3.4
-
April 06, 2018
– Fixed an issue with price in popup displaying excluding tax
– Localization updated
Version 1.3.3
-
February 28, 2018
– Localization updated
Version 1.3.2
-
February 13, 2017
– Fix for problem with PayPal payment method
– Fix for HTTPs URL on the shopping cart page
Version 1.3.1
-
November 18, 2016
– Fix for incorrect grand total on checkout in some conditions
– Fix for popup window continuously loading when using HTTPS URLs
Version 1.3.0
-
October 15, 2016
– Comprehensive tax settings for gift wrap items
Version 1.2.7
-
October 07, 2016
– Code refactoring
Version 1.2.6
-
September 16, 2016
– Fixed URLs generation
Version 1.2.5
-
July 21, 2016
– Fix for disappearing shipping block in the backend
Version 1.2.4
-
October 27, 2015
– Admin routing patch (SUPEE-6788) compatibility
Version 1.2.3
-
May 14, 2015
– Compatibility with 3-rd party checkout extensions improved
Version 1.2.0
-
February 11, 2015
– Currently selected gift card/wrap is displayed first in the list
– Gift message form is no longer displayed when it's disabled in the settings
– Usability improvements
Version 1.0.2
-
November 03, 2014
– Visual improvements
– Possibility to disable gift wrap for specified products
– New setting to allow message cards for products when gift wrap is not available