Order Flags
for Magento 1
Tired of chaotic order processing and missed delivery dates? Use Order Flags extension to organize and prioritize orders! Get more happy customers and more profit with this effective order management tool!
Greatly optimize order management process
Mark your orders with flags for easy priority recognition
Add important notes to process orders more efficiently
Automatically assign flags to orders based on order status
Quickly assign flags to multiple orders
Note. We have a new Order Manager Toolkit module, that has all the functionality included, as well as a lot of new features to optimize order operations.
Organized order management is crucial for business.
A great tool to streamline order processing.
If customers don't get ordered products on time, they get unhappy and most likely will not get back to your store. So business is at very high risk, when order management process does not function properly. With this Magento order manager you can easily highlight orders with flags for easy priority recognition and add important notes to process orders more efficiently. This module is especially useful for stores with large amount of orders.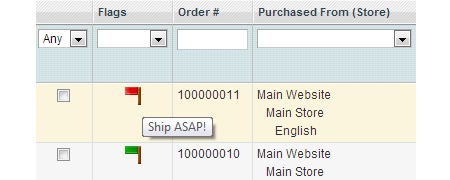 Prioritize orders to manage them effectively.
It is very important to prioritize tasks to get things done. The same is true about orders. Some orders may be more urgent than others, now you can clearly indicate this with the help of flags and process orders in the right order. You can set priority for each flag and sort orders by the flag priority - so the urgent orders will be at the top and easy to find.
Multiple flag columns.
It is possible to have multiple columns with flags and apply several flags at once to orders. Let's say some order is urgent and a certain shipping method was used - you can apply two flags to such order. You can also add order notes to each Magento flag column.
Add comments to the order flags.
You can assign flags to orders right on the order grid for better identification and to set priorities. In addition, this Magento order comment extension enables you add a comment for each order, which can be seen right on the order grid. For example you can leave order notes for staff like 'Call the client about packaging', 'Ship today', etc.
Use provided flags or create your own ones.
There's a set of flags supplied with the extension. It is possible to edit the flag priorities, images. Of course, you can create unlimited number of your own flags.
Effective time saving features.
Automatically assign flags based on order status.
This Magento module lets you automatically highlight orders with flags based on order status. For example, you can set red flag with 'urgent' priority to be assigned automatically to orders, which get 'Suspected Fraud' status. Or 'high priority' flag to order with 'Processing' status, etc. Such automation saves you and your staff a lot of time and allows react quickly to order status changes.
Automatically assign flags based on methods used.
It is possible to automatically apply flags to orders, when certain shipping or payment methods are used.
Allow admin users assign flags
Now you can allow your staff to highlight orders with flags. This makes the work a lot more coherent and effective. All users who are able to view the Order grid will also see the flags; that insures that nothing escapes your attention.
Flag orders in bulk.
Another great time-saver - ability to apply flags to multiple orders in one go. Just tick the necessary orders and apply the appropriate flag. No sweat :)
Other Features
100% Open Source — Easy To Customize
Follows Magento Code Architecture
Separated HTML/CSS/JS
Simple installation via Composer
* The name "Magento" and the logo are the trademarks of Magento, Inc.
Excellent extension
We use it in our back-end to organise order statuses between warehouse and delivery. Customer support is very good aswell. They answer questions immediately and fix any issue you have.
Can´t live without, perfect support!
Also we needed developer´s support, wich was perfect, quick and precise.
Great Extension
Really helpful for internal sorting. You can get really creative with the flag design.
Must-have for big stores
I had to buy this extension as I couldn't fully control my orders no more. We sell spare parts and consumables, so the orders always are frequent and urgent. Order flags turned to be very convenient and timely purchased tool. It helped me to arrange orders accordingly to delivery terms and optimize the work with my employees.
Want to say thanks to Amasty support manager who helped me with installation and was kind to answer all my questions.
Tanurik,
Magento Connect
Excellent Extension and Support
As usual, Amasty was very responsive and helpful with the installation of our Order Flags extension. Extension works beautifully, and they helped troubleshoot issues with conflicting extensions. Couldn't ask for better service!
Experienced team
hey..its a great extension..it works fine on local..but there is a problem on my live site..flag column is not added in the grid table..but flag orders on the menu appears..can someone help me..its on urgent basis..There are many extensions installed on my live site..Please help

hardu,
Magento connect

Great developer
A really handy little extension from a great developer.
This extension is powerful in its simplicity and makes morder management SO much easier.
Well done (again) Amasty!

HarryM,
Magento connect
Reliable developer
Hey guys I recommend to any one its a must have extension!
thanks for the update its working great on 1.7.2 latest
I really like the 2 flag option, and the option for automatic flags !
Again excellent extension! from Amasty
Also thanks for the quick reply and help !
Regards

noamv,
Magento connect
Excellent module
Brilliant, Lightweight, Easy to install.
Another usuable and great product from Amasty.

IGGY,
Magento connect
Great extension and great support
As we have to handle a big amount of orders, this nifty tool works great for us. Especially because we often get phone calls to mention this and that for orders. With this we can quickly apply it and make it visible to the orders for our whole staff. Great Code and support also - 5 Stars Extension!

subster,
Magento connect

Are you looking to add specific functionality for this extension or want to acquire a reliable development partner altogether? With custom development services by Amasty, you will receive high quality and cost-effective solutions developed by Magento professionals according to industry's best practices.
CE 1.4.x - 1.9.x, EE 1.8.x - 1.14.x
You can always download the recent version free of charge from your account
Installing an upgrade is easy — check now
My Downloads
Version 3.2.1
Last Update: Apr 17, 2017
Better ACL workflow when installed as a part of Order Manager Toolkit
Flag auto assign now works for specific shipping methods instead of carriers
Separate permission rule to allow assigning flags on the order grid
Minor code improvements
Version 3.1.0
Last Update: Oct 02, 2013
Code optimization to reduce possible conflicts.
Version 3.0.6
Last Update: Jul 16, 2013
Bugfix of automatic flags application.
Ability to automatically apply flags based on payment method used.
Code improvement: collection joined using event.
Improved compatibility with Order Attributes.
Fix for automatic flag application.
Ability to automatically apply flags when certain shipping methods are selected.
Multiple flag columns.
Version 2.0.0
Last Update: Jun 05, 2012
Set flags to apply automatically when order status changes.
Mass application/removal of flags on the orders grid.