Why do you need an HTML Site Map on your e-commerce website?
Users
Give visitors a good overview of your store. They will see all the links to the products as well as to any other pages.
Google
A user-friendly site map definitely improves site usability. It's one of the key factors for Google to make your site trusted.


With the help of sitemap you can also draw users' attention to the most important pages or the pages with information you want to emphasize. But in case you've got thousands of products in your store, you risk to spend hours or even days trying to place all necessary links to your sitemap page.

Our HTML Magento Site Map extension will automatically build highly relevant Magento HTML site map and help you to forget about routine monotonous work.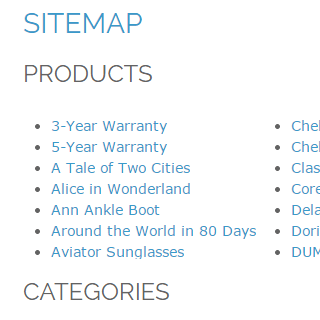 Site Map for users and search engines
Due to feature-rich Magento site map generator you'll easily make your HTML Site Map applicable for customers and search engines. Show all the website links on one page.
With the extension you can:
Choose the links you want to show
Exclude links from sitemap
Manage site map page design
Use 301 redirect from the default Magento sitemap
Split link columns by first letter
Let customers find necessary links faster using 'Search' field. It's highly desirable to apply the field to pages with 1000+ links.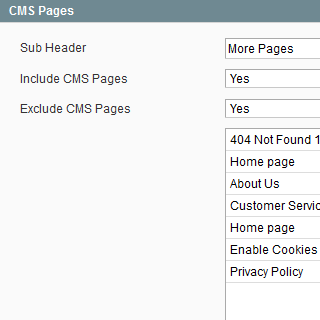 Include and exclude links
Choose the links you need to include into the Frontend Site Map and exclude unnecessary ones.
Add these links to the site map:
Categories
Products
Landing pages (Landing Pages extension must be installed)
CMS-pages
Also you may exclude any CMS-pages, category and product pages as well as out of stock products from Frontend Site Map in one click.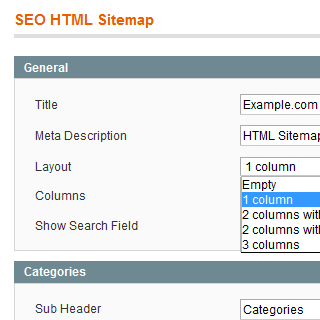 Design your Site Map page
Take advantage of Site Map flexible display options. Adjust the layout and other settings to match your site design
With the extension you are able to configure:
Layout with css
( 1, 2 or 3 columns, left or right sidebar)
Number of columns
(all links divided between 2 – 5 columns)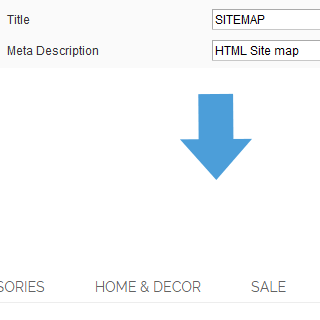 Specify required meta information
Meta description, page title and convenient URL are essential for search engines to better understand page content.
Easily indicate:
Meta description
Title
Short understandable URL
Default URL - example.com/catalog/seo_sitemap/category/
New URL - example.com/sitemap/
Other Features
100% Open Source — Easy To Customize
Follows Magento Code Architecture
Separated HTML/CSS/JS
Simple installation via Composer
* The name "Magento" and the logo are the trademarks of Magento, Inc.
Very useful extension!
A very easy to use and useful extension with great support behind it! Installation was done fast and without any problems. Happy we've chosen this solution!
5 stars extension
The extension perfectly runs for magento 1.9.1 version. It also looks nice on my current theme without additional customization. All necessary links are accurately placed on a separate sitemap page. I only regret I installed the sitemap tool before I took a look at the seo toolkit extension that includes this very app and a pack of others.

I do suggest using 3d paty apps for the sitemap as Magento native functionality leaves much to be desired. I don't know whether this very extension is the best offer on the market, but I'm fully satisfied with it. Clear settings and detailed instructions have definitely won my heart.
Helpful tool for huge stores
Before installing the app I was in two minds whether to use build-in Magento fu nctionality that allows building the sitemap for product pages and category pages, or to use the 3d party extension. And as soon as the latter had the possibility of including CMS pages, I've finally chosen this one.
Minuses: it still lacks pagination, which is really necessary for our store. It also may have conflicts with your custom theme
Helpful support!
I purchased the extension, and it occurred that my custom made theme works not very good with it. I couldn't fix it myself though, the support manager was very kind and helped me by tweaking the code a little bit.
The extensions has all the settings for adding/deleting pages from the site map, the only thing I need is pagination. Eventually my developer added it himself but I think it's a nice feature for shops like mine where you have thousands of links to add to the sitemap.
Nice looking handy sitemap
The module is as easy as it can be, although I had to bother the sup port team as the app didn't want to work properly with my custom theme.
The issue was quickly eliminated and I got a handy tool that works as described. All our numerous categories, product pages and additional pages are correctly displayed. The option of excluding particular pages, (especially with out of stock products) from the map is a big plus as well.
Although the module doesn't work with landing pages without an additional plugin, it does everything it promises.

Amisus,
Magento Connect
Write Your Own Review
Version 1.0.11
-
July 13, 2017
– Fixed issue with `Exclude Pages` setting
Version 1.0.10
-
June 01, 2017
– Allows to control the Robots meta option for the Sitemap page
– Improved the configuration page interface in back end
– Added all the module phrases to the CSV file to allow translation
Version 1.0.9
-
December 14, 2016
– A number of minor improvements
– Better compatibility with the Photo Gallery extension
Version 1.0.7
-
August 05, 2015
– Allows to include links to Photo Gallery from the https://amasty.com/magento-photo-gallery-pro.html module
Version 1.0.6
-
April 10, 2015
– Now, if we include landing pages, we use URL suffix setting from the catalog
Version 1.0.4
-
March 19, 2015
– Compatibility with outdated PHP versions
Version 1.0.3
-
March 18, 2015
– Better display for nested categories (level of depth more than 3)