Faster checkout
Convenient checkout flow
Responsive Classic theme
Analyze the checkout performance
Accept popular payment methods
Save data for registered clients
Noticeable Order Summary
Edit order details right on the checkout
Up to 36% faster checkout page load
Checkout page loading time is one of the most important things for store owners, as it directly impacts conversions. To make sure the checkout process is ultra-fast, the One Step Checkout extension optimizes the page code by bundling and minimizing multiple JS and HTML files. This way, a checkout page will load up to 36% faster!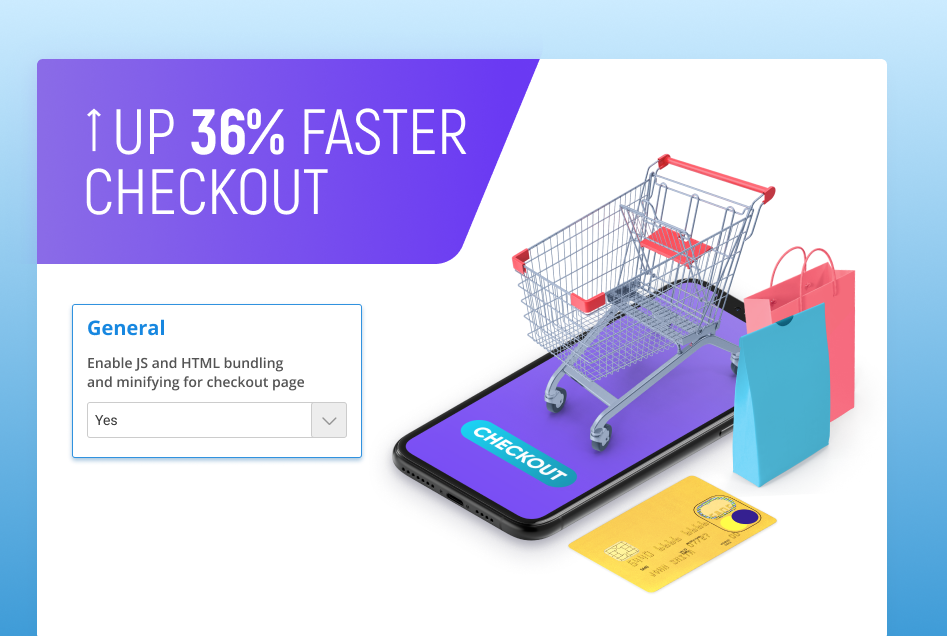 Convenient checkout flow
One of the best e-commerce practices is to make the checkout as accessible and simple as possible. The Magento 2 One Step Checkout offers the 2-column layout for the Classic theme, which displays all checkout steps without overloading the page with visual elements. Admins can also highlight certain blocks to attract customers' attention to them.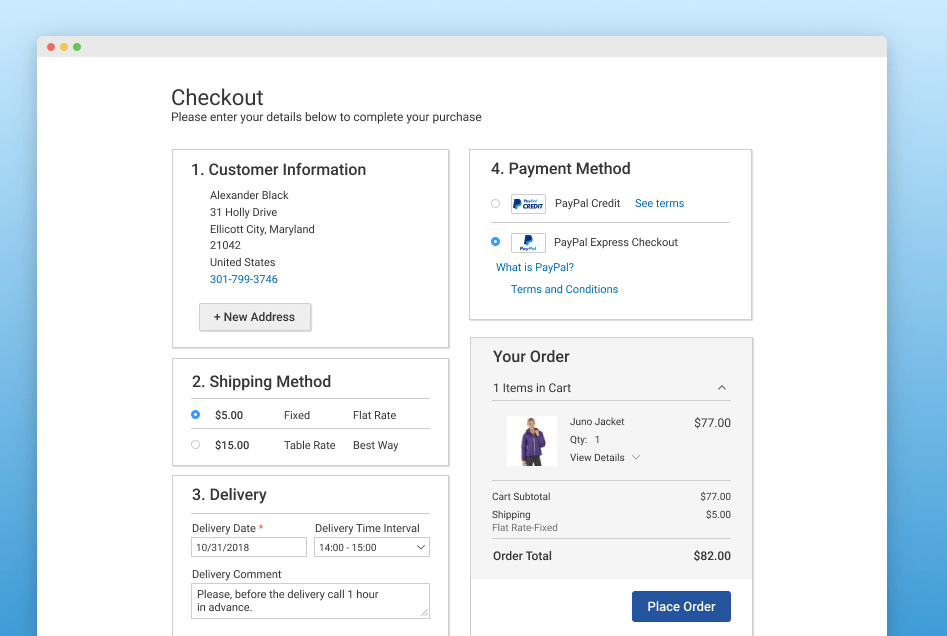 Mobile responsive Classic theme
According to a recent study by OuterBox, 79% of smartphone users have made a purchase in the last 6 months. By offering a seamless mobile-optimized checkout, you'll be one step ahead of competitors. The checkout page layouts also automatically adapt to whichever device is accessing it to provide an excellent user-friendly experience.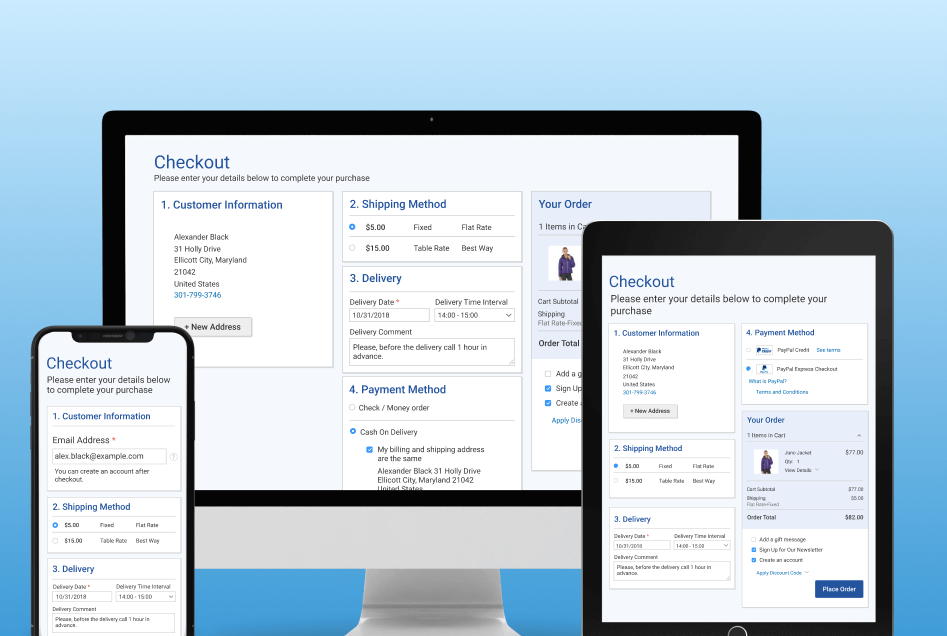 Analyze the checkout performance
Understand how customers interact with each checkout step. The One Step Checkout extension for Magento 2 offers free analytics that provide deep insights into the number of completed forms per each customer group. As a plus, you can also get a full breakdown on the way shoppers fill in any field when in the checkout step. With this data, you can improve the checkout flow by dropping redundant fields.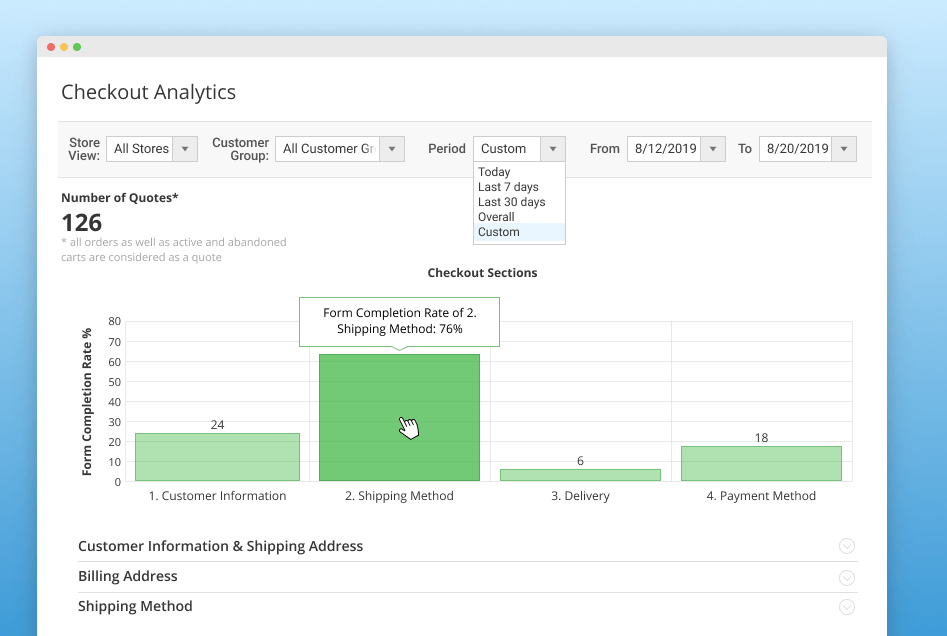 Accept popular payment methods
59% of shoppers will abandon the cart if their preferred payment method is unavailable in the store. Offer your shoppers a solid selection of secure payment methods. Magento 2 One Page Checkout is fully compatible with many popular payment systems, such as PayPal, Amazon Pay, Braintree, Klarna — and others like Stripe, SagePay and many more!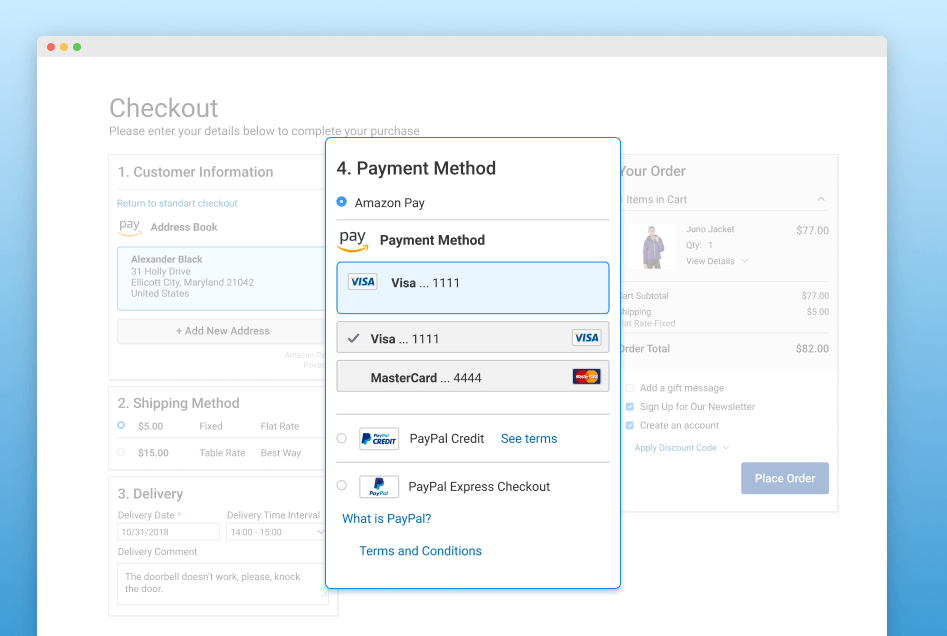 Save data for registered clients
Assist customers with the checkout process by saving important information. Registered customers can automatically fill in all forms based on existing data they put in their accounts. In case there are any changes, it is easy to add new data and drop the old one, or save several Magento 2 checkout options.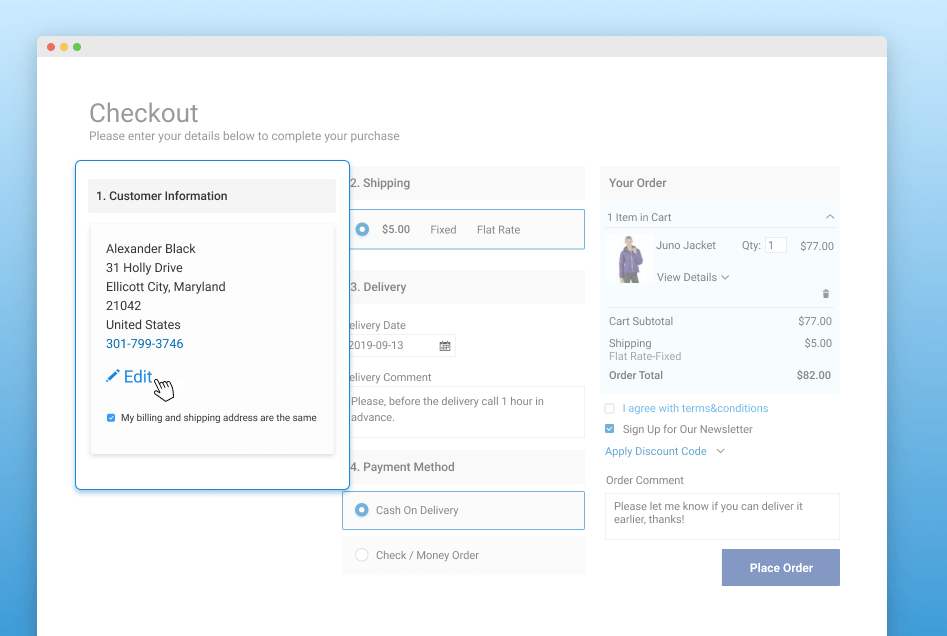 Noticeable Order Summary
The Modern theme 2-column layout displays the Order Summary with Place Order button and is always visible when scrolling through the checkout. Now, customers won't have to spend too much time looking for the Place Order button. This way, they are most likely to finalize their purchase in your store and successfully checkout.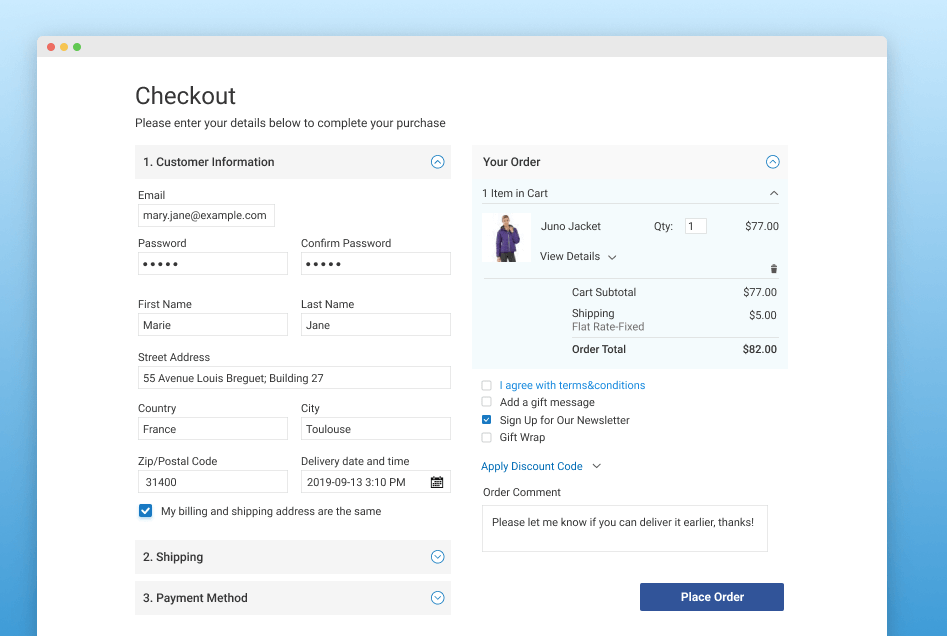 Edit order details right on the checkout
Instill trust by giving your clients full control over their cart content. Give them an option to edit the product quantity, color, size or remove the item right on Magento onepage checkout without redirecting them to cart. Sometimes shoppers can add products by mistake, or will change their mind and want to reconfigure the order.