Instagram is one of the most powerful social networks in the world. It has over 1,074 billion logged-in users per month and more than 500 million stories are created every day. And it continues growing.
However, no means all business owners launch company accounts and do ads with positive ROI.
Today we'll tell you how to launch Insta ads via Instagram App and Facebook Ads Manager.
Before you start, see what you'll need for advertising on Instagram
First what you need to do is to set your advertisement goal. You should understand why you need ads and what results you want to reach. 
What you will need to get an ad on Instagram:
Your product or service;
Business account on Instagram;
High-quality images, selling texts, and backlinks to your Magento store.
Choose your Insta ad format
There are 8 formats to advertise on Ig:
Photo;
Video;
Carousel;
Collection;
Shopping;
Stories;
Explore;
IGTV.
They are integrated into Instagram feed and stories. This system provides you an opportunity to create native advertisements - users will perceive it naturally as their usual posts and stories on Insta.
Let's take a look at all the types separately.
Type #1. Photo
Photos are the main content in users' feeds. This type of advertisement looks like a usual post but with the call-to-action button and small inscription "sponsored". You can choose a photo format for your first ads because it is easy to create.
This form of ad offers you the biggest quantity of different buttons:
• Apply Now;
• Book Now;
• Call Now;
• Contact Us;
• Get Directions;
• Learn More;
• Get Showtimes;
• Download.
Also, there are some technical requirements for your ad:
Image aspect ratio should be from 1,9:1 to 1:1;
Minimal image resolution: 600 x 315 pixels for landscape format and 600 x 600 pixels for square;
Your image can include up to 20% of text;
The text limit is 125 characters.
Type #2. Video
Video is a great way to show the use of your product. It attracts more attention and gives you higher results. But be sure that users can understand the video without sound because by default Instagram plays videos with the sound off.
Technical requirements for video include some special aspects:
Video length should be from 3 sec. up to 60 sec.;
File format: .mp4;
Maximal size: 1,75 Gb;
Frame frequency: up to 30 frames / sec.;
The aspect ratio: 1:1 (square) or 1.9:1 (landscape).
Type #3. Carousel
The carousel is a bunch of photos that follow each other. This advertising type is an amazing opportunity to show several products or one product from different sides, or you can create several ways how to use your product, a kind of visual aid.
Say, you sell laptops. You can show it from different camera angles, or you can add to set computer mouse, mousepad and flashcard in the carousel. The possibilities are endless.
Images in the carousel must match the same parameters as regular photos in Instagram advertising. You can upload up to 10 photos, but Facebook recommends use 4-5 photos in one post.
Type #4. Collection
This is a new form of advertising on Instagram but it already helps build a good demand.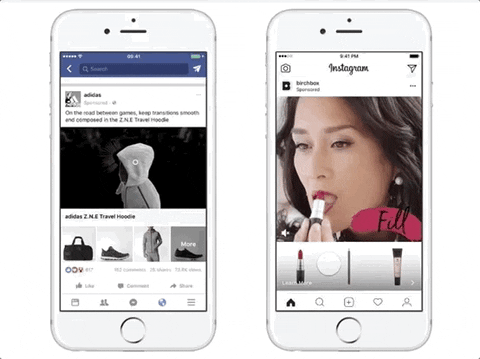 The collection provides users with a possibility to buy your products directly from the ad. It combines photos, videos, and direct response to make your ad the most powerful marketing tool.
Type #5. Shopping
Instagram Shopping ads is the type of ad that is the most popular among e-stores. It allows owners to tag their product, so users can go to the product page by clicking on it. Thus, you can increase your sales.
Type #6. Stories
And last but not list are stories. The main feature of this form of ad is that it is placed not at the main feed but inside the stories of other users.
A creative approach can get amazing results.
Type #7. Explore
If you want to show your ad on Instagram Explore, choose this type of ad. Showing your creativity in Explore will help you reach people that are primed for discovery. You can reuse your Instagram feed ad creatives (static image and video) for the Explore placement.
Type #8. IGTV
Instagram launched IGTV ads in March 2020. This type of ad is the mid-roll ad that appears during an Instagram TV broadcast that users can skip after a set amount of seconds. IGTV ad technical requirements are the same as for the Story (video only).
How to use your Instagram at Magento store?
Way 1: Make Advertising on Instagram App
There are two ways to start advertising on Instagram App: by promoting existing posts on your Instagram and by your profile.
#1. Promote your publication
Under your Posts, you can see the Promote button. Click on it, and you'll see the ad settings.
Step 1. Set the goal
First, what you need to choose is where users will go after clicking on the button. You have 3 options:
Choose the needed one according to your goal.
Step 2. Characterize your target audience
Instagram can target people who are similar to your current audience, or you can create a new audience. In the second case, you will need to specify the age, gender, interests, and geography of your potential customers. 
Step 3. Set your budget
On the following step, you can choose your daily budget and how long your campaign will last. In line with the configuration, you'll see approximate outreach. 
Step 4. Choose the payment method
You need to enter your credit data or log in to PayPal on the last page.
#2. Set your Instagram ad from the profile page
The other way to start promo action is by using your profile page. This page has the Promotions button. The only difference is that you will need to do one more step: choose the post for your promotion.
Way 2. Start Instagram ads in Facebook Ads Manager
A more complicated but with reach functionality way to enable your targeting advertising campaign is via Facebook Ads Manager.
Log in to your Business Manager, go to Ads Manager, and create a new campaign.
Step 1. Name your goal
There are 11 types of goals on Facebook. Choose the one that reaches your company goal. If you are not sure, read more about the goals here.
Step 2. Decide what is your audience
You can create your new audience or use a saved one on the next page. Facebook offers a very detailed targeting opportunity. For example, you can find engaged women, who live in Portland, age 20-25 years. Or you can find the people who recently visited your website. The opportunities of search on Facebook settings are endless.
Step 3. Choose placements
There are two options for this part: Automatic Placements and Edit Placements. To create Instagram advertising edit placement and choose only Instagram Feed and/or Stories.
Step 4. Specify your budget and schedule
After that, it's time to set your budget and schedule. Choose the Daily budget to specify the maximum daily spent or Lifetime budget to write.
Then set a start and the end days of your campaign, or you can run it continuously.
Step 5. Create your advertisement
The final step is the creation of your advertisement. You need to pick a Facebook page and Instagram account to associate your ad with at this stage. Facebook won't let you create an ad without a page.
Then choose one of the formats, upload images, write a text, and put a link to your website.
Next steps are completely easy:
Enter your credit card details or pick another payment method;
Inspect your ad one more time;
Click Confirm.
Congratulations! You did it!
Now you know the basics of advertising on Instagram, but if you have more complicated questions, feel free to leave them in the comments below.