How to configure the pricing in the Magento 2 shared catalog?
Warning: settings provided below are suitable for Magento 2 B2B only.
What is Magento shared catalog pricing?
Magento shared catalog pricing is the feature of the platform for B2B which allows you to create a shared catalog and offer different companies custom pricing options. This helps to find an individual approach to each partner, taking into account your requirements. To set up the pricing and structure of a shared catalog, do the following steps:
Step 1. Log in to the admin panel and navigate to Catalog > Shared Catalogs.
Step 2. Find the needed catalog on the grid. And in the Action column, choose Set Pricing and Structure, click Configure.
Step 3. Then, you need to decide what products you want to include in the shared catalog. In the Store dropdown, choose the scope of the configuration.
Step 4. Then choose categories and products you want to include in this catalog. You can use filters to find specific products. When ready, click Next.
Step 5. In the following step, you can configure custom prices of the Magento 2 shared catalog. You can do it for each product individually or by using mass actions.
Step 6. To use mass actions, open the needed category from the tree and select the needed products or all of them. In the Actions dropdown, choose between Set Discount or Adjust Fixed Price.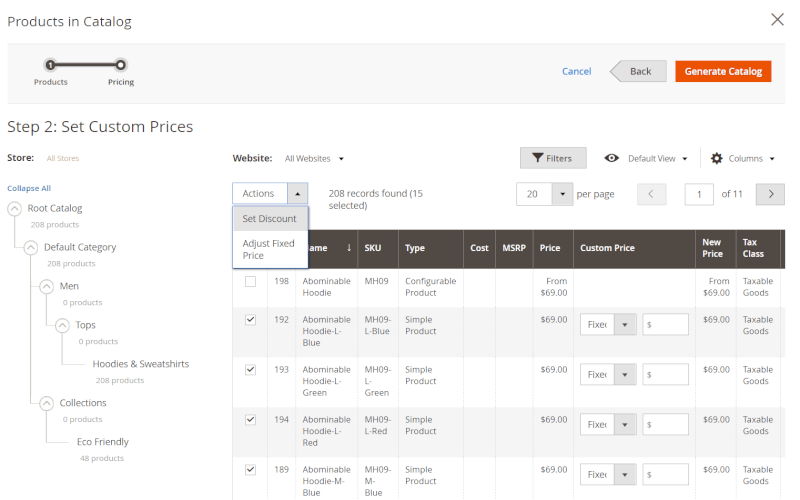 Step 7. When ready, click Generate Catalog and Save.
→ Let users subscribe to the price notifications with the Out of Stock Notification plugin
Step 8. If you want to offer discounts for the product quantity, you can set up tier prices in the shared catalog. For this, go to the Tier Price column and click Configure.
Step 9. On the opened page, click Add Price.

Step 10. Then, choose the Website where you want to apply this price.
Step 11. In the Quantity field, enter the number of products that will trigger discounts.
Step 13. In the Price dropdown, set the discount types as Fixed or Discount.
Step 14. Next, enter the discount amount. If needed, add other tier prices. And when ready, save the changes.
Didn't you find the answer to your question? We are always happy to help you out.