How to use "Each group of N for Fixed Price" action
The guidance below shows how to configure the action 'Each group of N for Fixed Price' of Special Promotions extension.
This action allows creating promotions like "Get group of special items for 150$".
Let's observe the steps of the action configuration.
Please open Admin Panel > Promotions > Shopping Cart Price Rules (click 'Add New Rule' button) > Actions.
Step 1.Choose 'Fixed price: each 5 items for 50$' for the 'Apply' field.
Step 2. Use 'Discount Amount' field to set up a special price for the promoted groups of products.
Step 3. Use 'Discount Qty Step (Buy X)' to specify the 'N' number. Here we specified '4', which means that the customer will buy 4 products for fixed price.
Step 4. Use conditions section of the 'Actions' tab to specify group for special items by which the discount is triggered. In the example below we indicated that group of special items should be from categories with ID 4, 16, 17 (Shirts, Men's Shoes, Women's Shoes).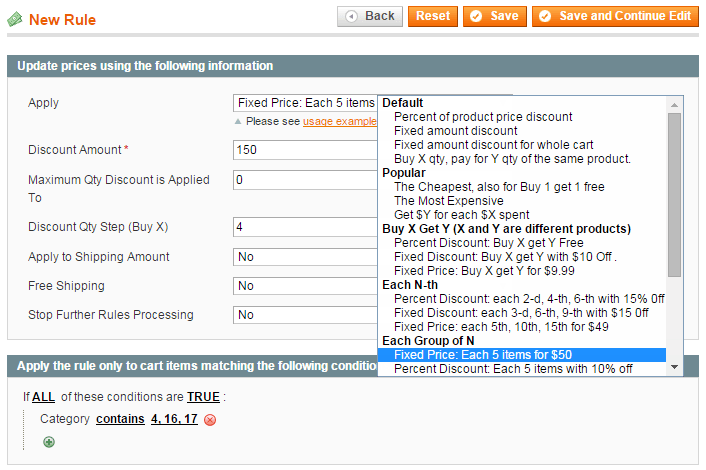 Please see the example of the rule we've created above.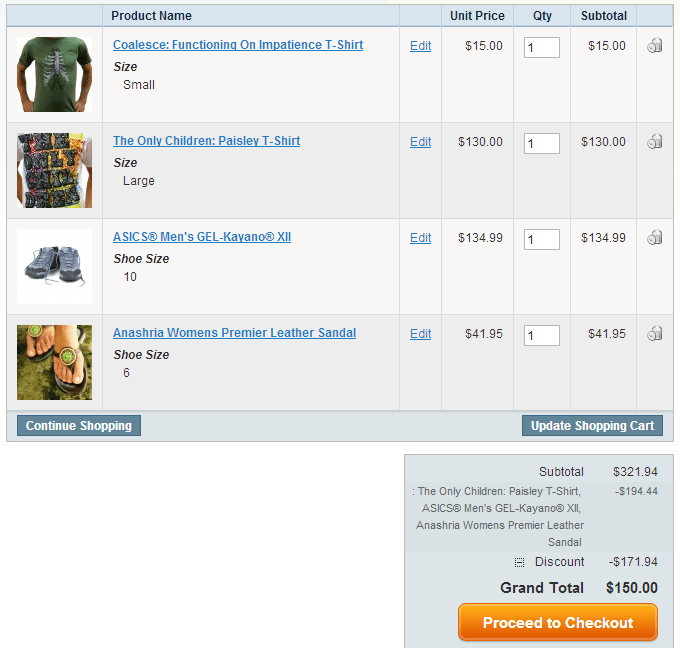 As you can see there are 4 items in the cart. Two items from category 'Shirts', one form category 'Men's shoes' and one from category 'women's shoes'.
Subtotal for the whole order is 312.94$, but according to the actions which were created in previous step, we have a fixed price for all 4 items.